Family, steps and healthy food: how 2020 has been life-changing for Paul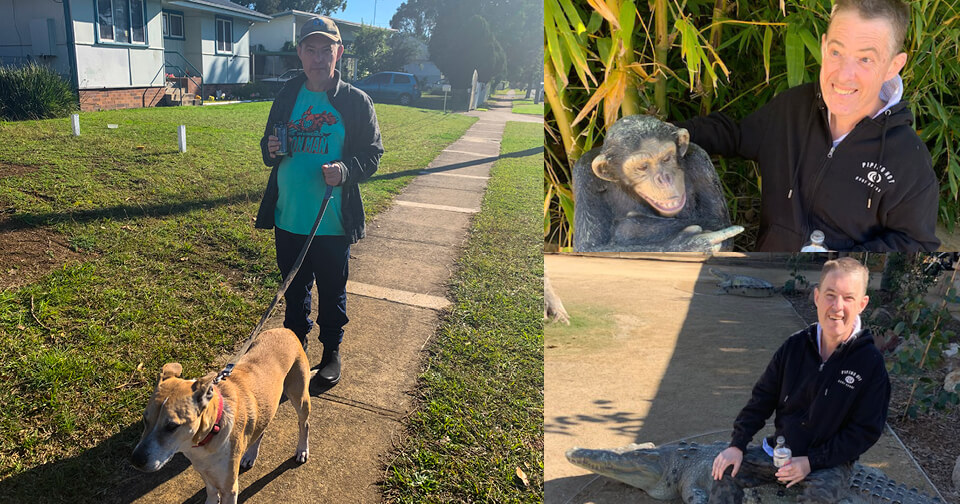 Paul Adams (pictured) lives in one of Northcott's disability housing properties in Toongabbie, and he has an intellectual disability. When Manjit Kaur took the role of Service Coordinator at the house, Paul was 101kg, had difficulties managing diabetes, and had behaviours of concern that resulted in him not being able to attend day programs.
Manjit saw there were opportunities for Paul to improve his quality of life, and she did everything that was within her reach to unlock them. She started by helping him obtain funding to get 1:1 community participation support. This new approach came with some hurdles because Paul found it difficult to go out with people he didn't know, but Manjit was very committed and she decided to trial getting that 1:1 support from regular casual staff Paul knew from the house.
This changed Paul's attitudes towards outings, and he started going on train trips, to the city, visiting his mum who lives in Wollongong and doing other activities that allowed him to be more active and in the community.
Paul was struggling with his weight and diabetes, so in January this year, Manjit and Support Worker Denise Manning encouraged him to get a second opinion on his therapy as it had been unchanged for years. So Paul attended the Diabetes Management Clinic at Blacktown Hospital. At the clinic, he started trialling a special treatment with a medication that is applied weekly and helps people to lose weight; this medication is administered on top of the insulin. This was the beginning of a very positive journey for Paul. To date, he has lost 25kg, and his intake of insulin has halved, with doctors saying that if he loses 4-5 kilos, they will trial taking him off insulin.
Denise has been supporting Paul the most throughout his journey. When Paul started the new treatment, Denise thought it would be a good idea to incorporate walks in the outings they have twice a week and, since then, they have been walking between 6 and 10km each outing. Paul got a FitBit and this has motivated him to do more physical activity. Counting the steps and kilometres walked is a cause for celebration in the house! Paul's diet has also changed dramatically. Junk food is now off the charts and the team motivates him to have healthier options when going out for meals.
This journey has provided amazing results for Paul: his health has significantly improved, as well as his mood and behaviour. He is now willing to take on anything and he feels much more confident. "We are going down big hills or jumping creeks on our walks. This is something that was unimaginable to do with Paul a year ago," says Denise. Having the possibility of visiting family has been a game changer for Paul. Denise and Paul make regular trips to Wollongong and Bulli to visit Paul's mum and brother.
Paul's brother Wayne adds: "Paul's positive behavioural changes are obvious. It all began with Manjit taking a leadership role in improving Paul's health issues and general well-being. The first step of a medication review better aligned Paul's medical needs and he became mentally alert and better involved with his surroundings. The second step of community engagement, exercise and regular outings to visit family has been possible through Denise's dedication and initiative. Denise has reconnected Paul with the simple things in life that we all take for granted, and he is smiling again! I am forever grateful."
Meanwhile Paul's GP, Dr Aajuli Shukla, says it has been a "pleasure" looking after him. "My work was made easier by the hard work from all the staff at his home. Thanks to the house team commitment to testing Paul's sugars, we were able to diagnose that he had several hypoglycaemic events on insulin and were able to reduce them significantly. We were also able to introduce a weekly injectable that reduced his weight, appetite and insulin use. All of these combined led to better outcomes for Paul: his weight dropped and his behaviour improved markedly. Thanks to the staff commitment at Northcott and the guidance of the diabetes clinic, we were able to provide a fantastic outcome for Paul," he says.
Related content
Check out how customers at Northcott houses have been combating boredom during the Coronavirus (COVID-19) pandemic.
Looking for a new place to call home? Check out our disability housing vacancies.