10 ways Occupational Therapists can help people with disability express their sexuality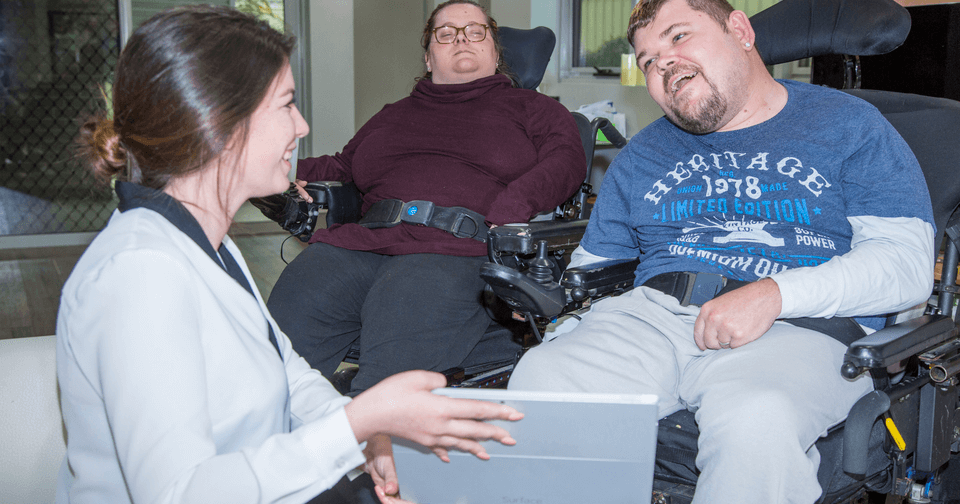 Firstly you may be wondering "why would an Occupational Therapist (OT) want to help with my sexuality?" and that's a good question.
At Northcott our OTs see you for who you really are – a complete individual.
This point of view, which enables us to see ALL of you, helps us to generate ideas and strategies that assist you to participate in activities (or occupations) that are important and meaningful to you.
This might be going to high school or work, getting around your home and community, exploring your sexuality, hanging out with your friends and family or even just getting dressed in the morning. As OTs we get that your sexuality is one important aspect of who you are, because of this we provide a range of supports and services to assist you to live the sexual life you choose.
At Northcott we understand that sexuality is much more than just having sex. This post does focus on the physical aspects of sexuality, whether this is with another person or by yourself.
So how could we help you?
1.) We work with you as an individual.  We discuss sexuality activities you want to participate in and explore how you want to express your sexuality. We work alongside you to discover what it is that is getting in your way, and we work with you to find possible solutions to overcome these obstacles using your strengths and abilities.
2.) For some people our support is geared towards physical support needs. You might have reduced mobility, so your OT will find ways to support, lift or prop up your body to help you do what you want to do.
3.) You may have reduced control over your body movements and this is an obstacle to fulfilling your sexual desires, so your OT will work with you to figure out different positions and tools that will work with your body and your desires.
4.) For those who fatigue easily, your OT can teach you to use energy conservation principles like different positions, or show you how to schedule sexuality into your routine.
5.) If your abilities are changing or if you have reduced movements, your OT can work with you to maximise the movements you do have. This may be by setting up the space to best suit you or perhaps using adaptive equipment to enhance the movements you have. Did you know there are sex toys that operate using Bluetooth, remote control or even a switch?
6.) You may experience varied sensation, less sensation in some areas, possibly more sensation in others. If this is the case your OT can help you to identify different products available to calm or ignite your senses and combine them with alternate positions or techniques.
7.) If you are concerned about how a medical issue is impacting on your sexuality, the place to start is your GP or specialist. Once you have sought their guidance your OT can assist you to navigate sexuality and: incontinence; pressure sores; respiratory issues; catheters and medical devices/implants.
8.) You may find that your sexuality is being impacted on by your physical environment. Your OT can work with you to identify what sexuality activities you would like to participate in and where, and then brainstorm ways that equipment can support that.
9.) Perhaps your sexuality situation is a combination of all of the above, or some of the above or none of the above. If this is the case, you can be assured that OTs can still assist. OTs are fantastic idea generators and problem solvers and will work tirelessly alongside you to find the right solutions to your problems.
10.) Lastly, we know there are a lot of negative assumptions made about people with disabilities and sexuality – and we know these are absolutely not true. Your OT can simply be someone you know you can talk to, who won't judge you or discourage you. Your OT can be someone you can ask the tricky questions, or someone who will back you and help you talk to other people in your life about your sexual needs and your sexual rights.