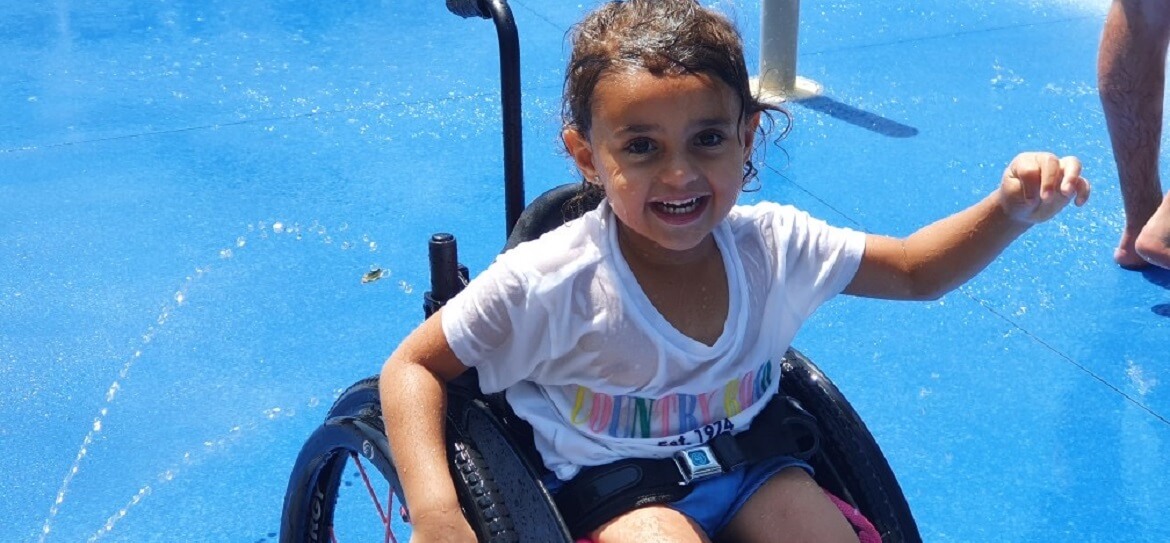 Paediatric Spinal Outreach Service (PSOS)
The Paediatric Spinal Outreach Service (PSOS) provides comprehensive community based outreach services and supports for children and adolescents aged 0 – 18 who live in NSW and have acquired a spinal cord injury (SCI) through:
an accident/ fall, spinal tumour,
vascular causes such as an brain arteriovenous malformation (AVM) or spinal stroke
transverse myelitis.
Northcott delivers this specialist children's service across NSW with a team of fully accredited, experienced and committed physiotherapists, occupational therapists, social workers and clinical nurse specialists. Our team works with you and your child to determine your needs, and develop a plan so that your child can achieve their goals and reach their potential. We can support your child through all the major transitions in their life, including assisting with a smooth transition from hospital to home, attending specialist's appointments and supporting the transition to school.
The PSOS team aims to get the best outcomes for your child through age-appropriate rehabilitation following spinal cord injury. Children are seen at home, at school, in hospital clinics or in the community. Our services are provided in face-to-face settings or via phone, email or video conferencing.
We also support other family members, carers, local therapists, local practitioners, school teachers, sports teams and recreational groups.  We are able to provide consultation and support in schools including working with school staff and peers on spinal specific education sessions, equipment modifications, health care plans or adjustments to the curriculum. If required, we can also attend meetings with teachers, offer training for teacher's aides and provide support for excursions.
The PSOS service is funded by NSW Health. We also collaborate with the Lifetime Care and Support Authority of NSW and other insurance providers to get the best for you and your child.
What we can offer
Nursing
Our clinical nurse specialist provides expert clinical rehabilitation nursing services including:
Health maintenance programs to assist with issues relating to skin care, personal care, pain, autonomic dysreflexia, bowel and bladder management
Education programs to reduce the incidence of complications such as pressure sores, urinary tract infections and respiratory infections 

Occupational Therapy
Our occupational therapist aims to promote, retain and restore your child's independence in everyday tasks. Our services include:
Rehabilitative therapy to promote independence in all daily living tasks from dressing to driving
Modifications to the home and school environments to improve access and support independence
Assessment and provision of all equipment required to maximise independence and safety in the school environment
Assessment and provision of manual and powered wheelchairs, self-care equipment (e.g. shower/toileting aides) and other equipment to support goals
Assessment, education and management of pressure care prevention and treatment
Support and assistance around inclusion in a range of sports and recreational activities
Training, mentoring and problem solving with local therapists
Providing resources for local therapists
Physiotherapy
Our physiotherapists aim to maximise physical strength, fitness and movement, as well as support independent skill development and promote participation in physical activity. Our services include: 
Musculoskeletal and neurodevelopment assessment
Rehabilitation to maximise function and participation
Prevention/minimisation of secondary complications of spinal cord injury on the growing body
Prescription and training in the use of specialised equipment (e.g. standing, recreational)
Support and assistance around inclusion in a range of sports and recreational activities
Consultation and trials of innovative therapies
Training, mentoring and problem solving with local therapists
Providing resources for local therapists
Joint or group therapy sessions in person or via videoconference
Social Work
Our social worker provides support services to assist the whole family to adjust to a new way of living with a child with an acquired spinal cord injury. Our services include: 
Specialised assessment of psycho-social support needs
Emotional support (e.g. talking through concerns, counselling, peer support, referral)
Practical support (e.g. accessing the NDIS, financial, housing, respite, home care, support letters)
Working with you to develop personalised support plans
Information about services, events and accessible activities in your local community
Advocacy, problem solving and support in liaison with government departments, schools and community groups
What you can expect / How to refer to the team:
We are committed to you. We tailor our support to your individual priorities and needs and work together to help you achieve your goals. As our team is funded through NSW health, there is no fee for our service.
The Children's Hospital Network, your specialist, allied health team or insurer/case manager can refer you to the PSOS.
Call us
8am - 8pm, Monday to Friday
8am - 4pm Weekends