Young people with disability showcase their creativity at art exhibition in Parramatta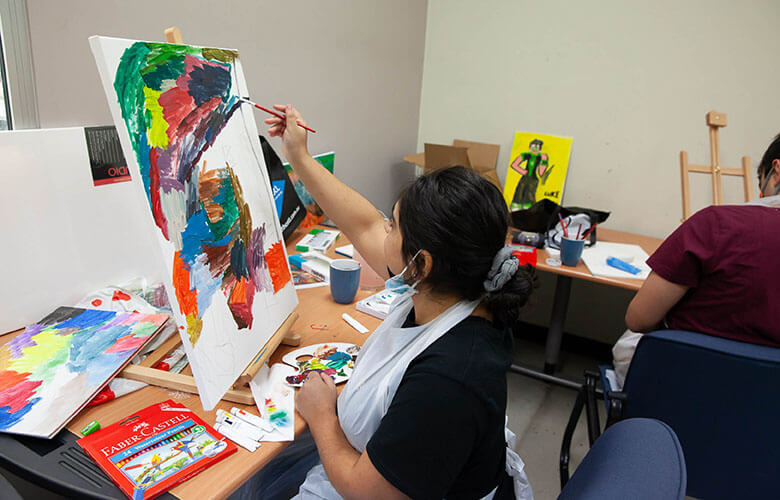 Through I-Art: Inclusive art for youth with disability in Western Sydney, 25 young artists will present their artistic creations from 7 to 21 June in an art exhibition at The Octagon Building in Parramatta.
I-Art: Inclusive art for youth with disability in Western Sydney is a youth-led initiative created by Northcott and supported by the NSW Government's Youth Opportunities program.
Participants will display their creativity and talent at a public exhibition that runs from 7 to 21 June, Monday to Friday (except public holiday) 10:00am to 4:00pm at the Octagon Building, 110 George St, Parramatta.
The artists who have chosen to do it, will have their artworks for sale, with all proceeds going to the artist.
You can browse all the artworks on this online exhibition
I-Art enabled the participants to connect with their creative potential and feel a sense of belonging, essential for a healthy productive life. This project supported confidence building, and contributed to enhance their physical, mental and emotional wellbeing. The initiative also supports the development of interpersonal skills, reduce stress and increase self-esteem and self-awareness.
Through a series of community based workshops, young people with disability across Western Sydney explored different mediums such as digital art, photography, sculpture and textiles, to develop their artistic skills and talent.
"When I was in high school, I used to love art, but when I finished, I stopped doing it. When I found out about I-Art, I thought it was a really good opportunity to go back into art. It was good to learn new things," Joshua Uykimpang, I-Art participant.
"I have always been interested in art. I-Art helped me make lots of friends and also think in more creative ways: I never thought I was going to touch clay and I actually made a sculpture with one of my friends," Madison Seach, I-Art participant. 
"I joined I-Art because I love art and painting. I wanted to get better at it and try different kinds of art. The artwork I am showcasing is called concrete jungle and it shows a jungle spray painted on a wall, meaning the importance of nature and that the world is not only ours but it also belongs to the animals. The message is that in the future, that spray painted jungle can be the last jungle we see." Imogen Ryan, I-Art participant.