Celebrating participation and inclusion during Children's Week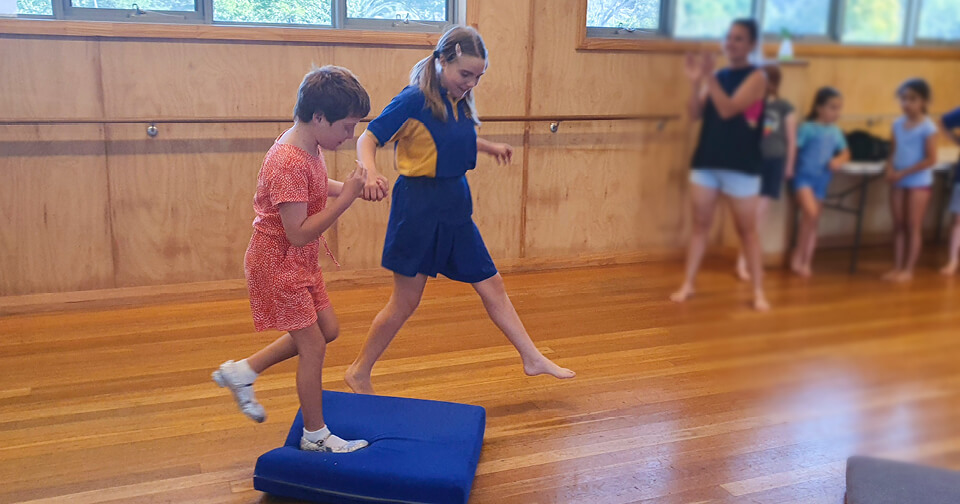 During the last week in October, every year we celebrate Children's Week across Australia. A diverse range of events and activities are organised at National, State and Local levels, to focus the attention of the wider community on children, their rights and achievements, and to celebrate the right of children to enjoy childhood. Each year there's a theme that focuses on one of the articles of the United Nations Children Rights Convention (UNCRC), and this year the theme focuses on Article 15 – 'Children have the right to meet together and to join groups and organisations, as long as this does not stop other people from enjoying their rights.'
Participation and inclusion are key elements of the National Disability Insurance Scheme (NDIS) ethos. We had a conversation with Rowan Lennox, Northcott ECEI Service Manager for the Mid North Coast of NSW about how the Early Childhood Early Intervention (ECEI) pathway contributes to protecting and promoting this right among children, and he also shares a very special example of participation and inclusion.
Rowan emphasises that choice, control and participation in the community are the foundation pillars of the Scheme, and the way we live and breathe at Northcott ECEI. "We support inclusion and participation in the community from two different angles; supporting children to build up their skills and engage as part of their community (through support to developing communication skills and tackling behaviour and sensory processing challenges) and at the same time, we work with organisations to enable them to welcome people of all abilities in the community (for example, in pre-schools). We also work with the families of the children to empower them to advocate for themselves and connect with other families that could be facing similar challenges," Rowan explains.
Rowan has a very special story of participation and inclusion to share. Rowan's daughter Sera loves dancing, she has Autism and she attends a mainstream dance class that welcomes her with open arms every week; she loves it!
"Sera loves music and movement. When we noticed she was mimicking the dance moves of song film clips she was watching on YouTube, my wife decided to organise a disco in our local community hall. Following this, Sera's support worker suggested a dance class in Bellingen that would be great for her, and mentioned that the instructor Kylie was also a support worker, so we invited her to one of the discos, and she invited Sera to attend the dance classes."
"Sera has been attending weekly classes with her support worker for about 12 months now, and she is so happy! Sera is very big on routine, so she knows that every Wednesday it's dance day. The moment of taking the school shoes off to put on the shiny tap shoes is the best moment for her!  There's a lot of sensory stimuli and coping with that requires a big effort for her, but we can see she is committed to making the effort because nothing stops her from going to her weekly class. When the class finishes she is very exhausted, but it's nothing that can't be balanced with a quiet evening."
"Being part of a mainstream activity like this is a very big step for Sera and us as a family. We live in a small regional town and it's important for Sera to be known and be part of the community; this is a really good way for people to know who she is and for her to participate and feel part of this great community."
Sera's dance teacher Kylie says, "Everyone loves to dance! ​ At Bellingen Dance for Life we are proud of our inclusive environment. Being a small community, everyone knows each other, and it's essential that people of all abilities are welcomed and encouraged to have fun, learn new skills and be themselves.
We always go out of our way to accommodate the needs of individual dancers and their families. This ranges from payment plans, to support with transport, afternoon snacks, emotional support, and the varying physical, sensory and developmental needs of their students.
There is an ongoing conversation between Sera's support team and Bellingen Dance for Life, taking into account Sera's needs, progress and what social and communication skills we are focusing on. Older students are used to leading Sera through particular warm up activities. We believe strongly in the benefits and the skills the neurotypical students are gaining by normalising this very simple interaction. We believe the neurotypical and able bodied community have more to gain from normalising inclusion than anyone else in the community."
Related content:
Does your child need support to participate and be out in the community? Check out how Skills4Life and Group Therapy can unlock lots of opportunities.
October is also Alternative and Augmentative Communication (AAC) Awareness month. Awareness around these communications methods is another way to foster inclusion. Check out Shirley story