A Father's Day best mates story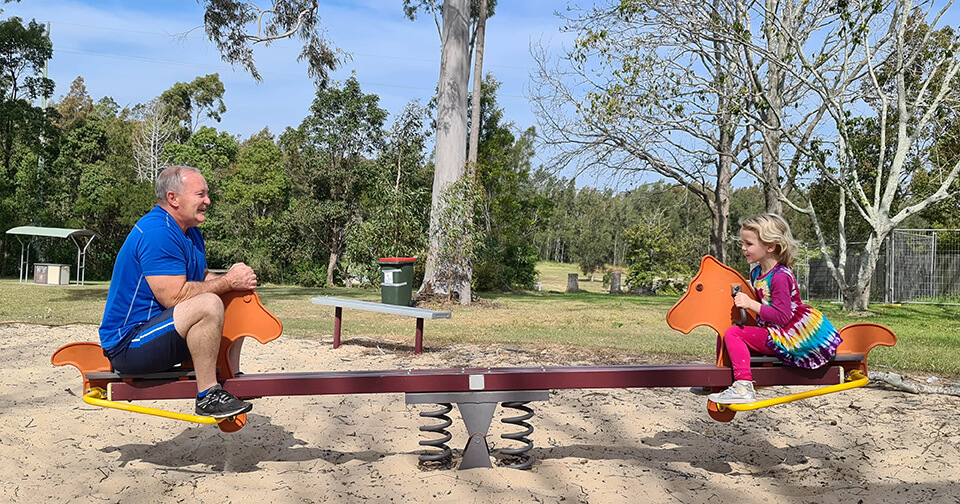 Stephen and Rhonda Cox live in Coopernook NSW with daughters Tahnee (8) and Evie (4). At the moment Evie is having a hard time with communicating, especially at pre-school, with her peers and teachers. That generates some problems with socialising, so Stephen and Rhonda started looking for ways to support her and fast track her speech development because she is going to school next year and they don't want her to fall behind, but waiting lists for accessing services were discouraging.
"We were fortunate enough to meet ECEI Coordinator Tracy Martin, who has supported us in the beginnings of our NDIS journey, to gain support for Evie"
After Tahnee was born, Stephen and Rhonda decided that Stephen was going to stay home and look after her. Since then, he has been a stay at home dad and cares for their two daughters.
When asked how his life has changed being a stay at home dad, Stephen runs us through a rollercoaster lifestyle, "I'm an adrenaline person; I've practiced boxing, surfed around the world, been rescued from an avalanche, fought crocodiles in the Gulf of Carpenteria. This has clearly been a massive life style change, and I'm grateful for it every single day. Parenting is hard work, but it's so worth it; I'm really proud of the girls.
Life with them just happens, and I enjoy it; we enjoy being together. Since they were born, they have been with me every hour of their life, except when they go to school. We enjoy being together, and it fills my heart when they say 'dad you're my best mate'.
We play handball, go to the park, go for walks down the river and go fishing. Evie is only 4 but she's had some serious catches! She also has a passion for animals, so we enjoy feeding the animals together. We have a possum in the garage who now has a baby, and Evie loves to feed them. She also feeds the neighbour's horse daily.
I'm committed to influencing the kids to have the drive to learn. My main hope for them is to be happy, fit and healthy, and succeed in things."
Happy Father's Day to Stephen and everyone in the Northcott family!