Northcott provides new disability housing options in Wagga Wagga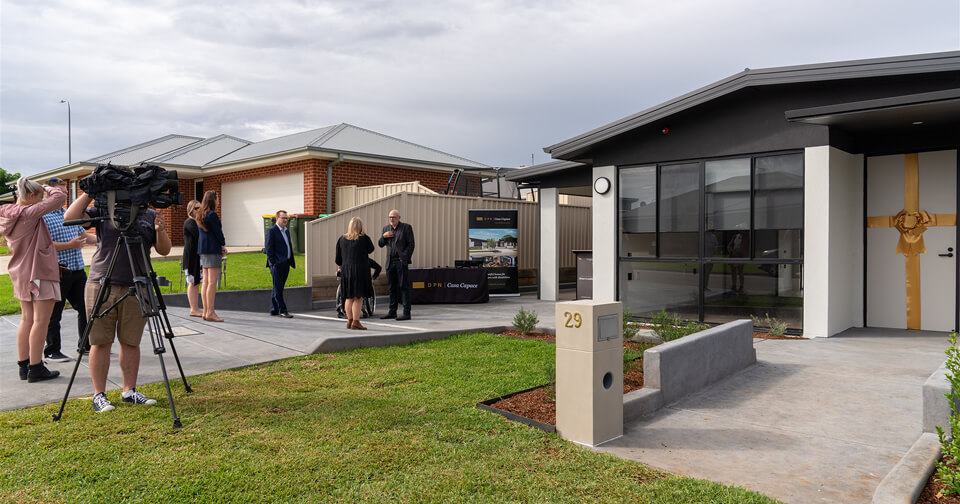 Northcott is pleased to be partnering with DPN Casa Capace to provide two new state-of-the-art independent living options for people with disability in the Wagga suburb of Gobbagombalin.
These homes are fit for purpose and equipped with adjustable bench tops and wiring so the latest advances in assistive technology, such as automated doors, lighting, climate control and blinds can easily be fitted when required to support the residents.
Northcott will be the Supported Independent Living (SIL) provider for the 8 residents of the Gobbagombalin homes. SIL funding is provided to people with disability by the National Disability Insurance Scheme (NDIS) to support them to successfully undertake daily tasks in order for them to live independently.
DPN Casa Capace is the Supported Disability Accommodation (SDA) provider for the homes, where NDIS funding is used for people with disability who have significant functional impairment or highly complex support needs, so that they may access specialist housing.
Casa Capace CEO Michael Fuller said "the purpose of these homes is to provide beautiful living environments for Australians with disabilities that assist them to live as independently as possible in the community."
Northcott Chief Operations Officer, Andrew Kew, says that these homes are part of the organisation's long-term commitment to people with disability in the Wagga region.
 "It is really important that people with disability are given options to be part of the community, not separated from it. These new houses are part of a larger estate and we are looking forward to connecting with, and being part of, that local community."
Contact us for more information about our SDA housing in Wagga Wagga by email or call us on 1800 818 286.