New Specialist Disability Accommodation coming to Bradbury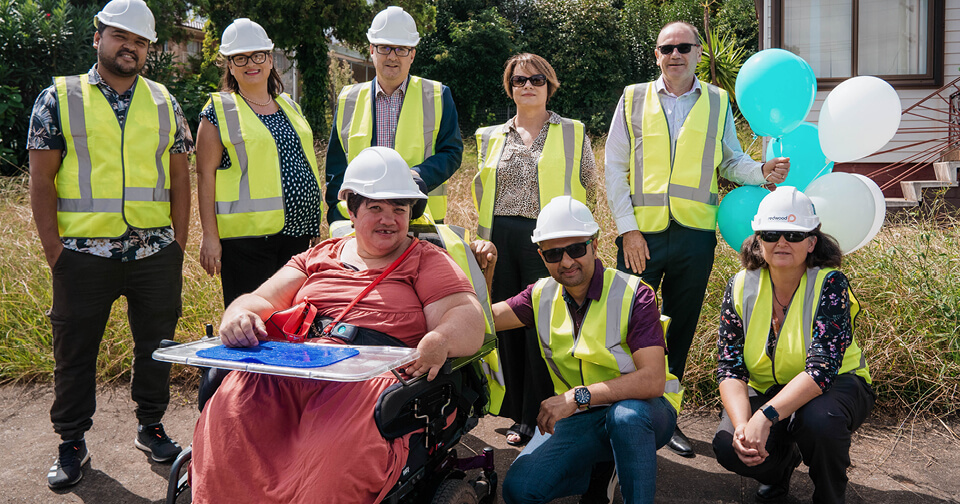 Northcott has partnered with Specialist Disability Accommodation (SDA) provider Good Housing to bring innovative disability housing to Bradbury. The Northcott team, led by Chief Operating Officer Andrew Kew joined Good Housing Co-Founders Sam Graiche and Antony Anisse to mark the beginning of their partnership and the start of the construction in Bradbury.
The new homes will be built in the heart of Bradbury. Bradbury will host a suite of three 1-bedroom High Physical Support (HPS) villas and an adjoining 2-resident HPS and/or Improved Liveability (IL) with room for additional accessibility modifications to be made under tenants' funding.
Each villa will feature modern architectural design, with a spacious, functional kitchen area and a private en suite bathroom. They will be powered by the latest in assistive technology, to ensure the independence and comfort of the residents. The villas have been thoughtfully designed to support the accessibility requirements and preferences of people with disability.
Northcott Chief Operations Officer, Andrew Kew, says, "We are just starting our partnership with Good Housing. They share our approach to ensure that people with disability are able to access lovely homes, built to suit their needs and most importantly, engaged with their neighbours and people around them. These new homes are in an established part of Bradbury and we are looking forward to connecting with, and being part of, that local community."
Also in attendance was Northcott customer and future tenant Sue. She was excited to observe the site of her prospective dwelling ahead of its expected completion in October of 2022.
Good Housing Co-Founder Antony Anisse explains how Northcott has been important to the growth and direction of Good Housing. He says, "After years of extensive work and conversations, we are excited to witness the by-product of this partnership, first with the construction of our new home Banksia, and ultimately with the many new and exciting projects to come."
At the core of Good Housing and Northcott's partnership is a passion to empower individuals with confidence, choice, and opportunity so that they may reach their full potential and enjoy the high standard of living they deserve.
Contact us for information about our SDA housing in Western Sydney by email or call us on 1800 818 286.
Read more:
Northcott provides new disability housing options in Wagga Wagga
Are you looking for a new home? Browse our current vacancies here