Rewarded for hard work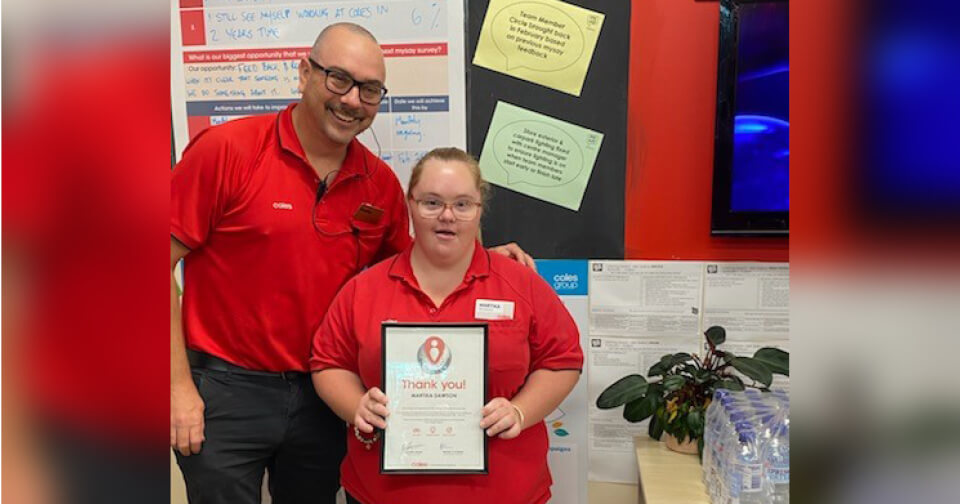 Martika is an outgoing and confident 27-year young lady, and she was recently awarded a special certificate for her volunteer role at Coles Ballina!
Martika has Down Syndrome and was brought up in a big family that always encourages her to be the best she can be. She has been with Northcott Ballina for almost 10 years and accesses Northcott's In Home & Community Supports and Coordination of Supports. She also attends Northcott's Everyday Life Skills which has taught her several, diverse life skills.
Martika loves being part of the Ballina community and she has dreamt of being part of the working community, just like her brothers and sisters. She especially always wanted to work at Coles.
Making dreams come true
Her Individual Plan Advisor Narelle took it upon herself to support Martika to make this dream come true.
"Martika has always wanted to work at Coles; this was a dream of hers. With persistence we addressed the local Coles Manager and soon he was on board with Martika doing a fully supported Volunteer Role" says Narelle.
Now, Martika volunteers at Coles part-time two days of the week and has been doing this for the last few years. Supported by a Northcott Support Worker, she is gaining experience in many of the different departments at Coles.
Martika is a valued staff member of the local Ballina Coles store. She shares valuable input during staff meetings and takes the utmost pride in completing her set tasks during her shifts.
"I am very proud to accept my award. Northcott has helped me embrace my individuality and they strive to make my dreams come true. I love my work at Coles and have made many new friends and acquaintances", says Martika.
"Management and staff at her work have really embraced and welcomed her with open arms. Her manager has told me she has made the store a better place", says Alyson, Martika's mother.
"Martika is an amazing person and she has been an anchor to our family during our most trying times. It is great to see her work dreams come true with Northcott's support", says Alyson.
What's next for Martika?
Martika looks forward to the future and hopes to be more independent like her siblings.
Soon Martika will be moving out of home for the first time. She will move into Northcott's upcoming group homes currently being built in West Ballina.
Read more
There's a lot of great stories about how Northcott supports customers to get ready for the workforce and find a job. Check out how Dylan from Wollongong pursued his passion and landed a job and how Penni and Kakra from Hornsby landed their first job.