Northcott Ballina celebrates new office with visit from Mayor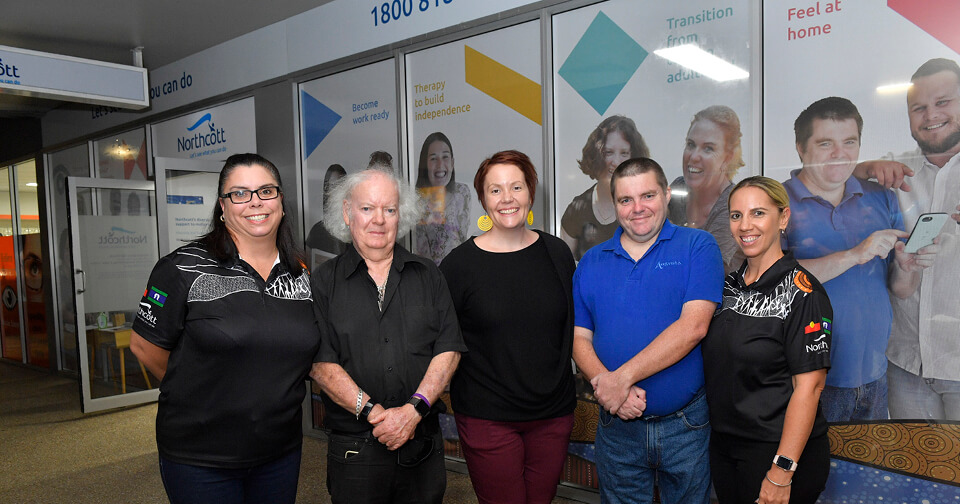 Northcott Ballina staff, customers and partners were joined by CEO Liz Forsyth and Mayor of Ballina Shire Council, Clr David Wright yesterday to celebrate the official opening of a new office on River Street, Ballina. The event was also the opportunity to launch Northcott's latest Stretch Reconciliation Action Plan to regional staff and customers.
Northcott has been delivering services to children and adults with disability in and around the Ballina area for more 12 years. Growing from four customers, the local team now supports more than 110 children and adults with a range of disabilities and delivers services including Everyday Life Skills, In-home and Community Support, Coordination of Supports, Therapy and Housing.
This new office space is the result of a growing need for disability services in the community, as well as a growth in customer numbers in Northern NSW.
Northcott CEO, Liz Forsyth said, "Almost 6% of residents in the Ballina Shire need support with day-to-day activities due to disability, higher than elsewhere in NSW. This new space is essential for us to better support the needs of the community. We can now cater for all our staff as well as sustain continual growth in our services so we can support more local children and adults with disability to realise their potential."
The new office is centrally located and just around the corner from Northcott Ballina's Everyday Life Skills service, providing more convenience for customers. Ms Forsyth said the new location will also help to raise the profile of Northcott within Ballina.
Mayor Wright was pleased to be at the event, saying: "Northcott provides such a valuable service to individuals and their families. I am proud to see them move into their new premises and see the service go from strength to strength. They do such great work, a lot of it behind the scenes, but it makes a world of difference to people living with disability every day."
Yesterday's event was a great opportunity for Northcott to launch its Stretch RAP 2020-23 to regional staff and customers. Ms Forsyth acknowledged the work of Northcott's RAP Working Group and congratulated local staff on building close ties with Aboriginal and Torres Strait Islander communities and businesses in and around Ballina.
Local Aboriginal staff members Kelly Anderson, Ballina Area Manager and Kim Davis, Northern NSW Regional Manager, were heavily involved in the development of the RAP, which reinforces Northcott's commitment to reconciliation and improving outcomes and opportunities for Aboriginal and Torres Strait Islander peoples.
Northcott Ballina works closely with local Aboriginal organisations like Bunjum Aboriginal Corporation, Bullinah Aboriginal Health Service, Jali Aboriginal Land Council and the Jarjum Bugal Nah Childcare and Family Centre. Around 15% of Northcott Ballina staff and 4.5% of customers identify as Aboriginal or Torres Strait Islander.
"We have worked hard to become a service provider of choice for Aboriginal and Torres Strait Islander people with disability living in and around Ballina. We have done this through growing the number of Aboriginal people we employ and building close and meaningful ties with local Aboriginal organisations," explained Ms Anderson.
"We support staff from our Aboriginal partners by visiting remote communities to provide individuals and families with support to understand the National Disability Insurance Scheme (NDIS) and information about how to access disability supports and services. We also work collaboratively within the local community to ensure we get the best possible outcome for all our customers," she said.
Guests at the event included Local Elder Aunty Julia, representatives from local Aboriginal organisations and Northcott customers, Anno (Anthony) Pitt and David Hicks.
Anno started accessing Northcott services in December 2018 and is a keen touch and rugby league player who plays in the Titans disability league. David has been a customer since February 2016 and is Northcott's first Supported Independent Living customer in Northern NSW.
Related content
Read about the bond between Anno and his Northcott Support Worker Dane who feature on the window of the new Ballina office.
With Northcott's support, Ballina customer David moved out of his parent's home to live independently for the first time in 2020.