Moving forward with our Stretch Reconciliation Action Plan 2020-2023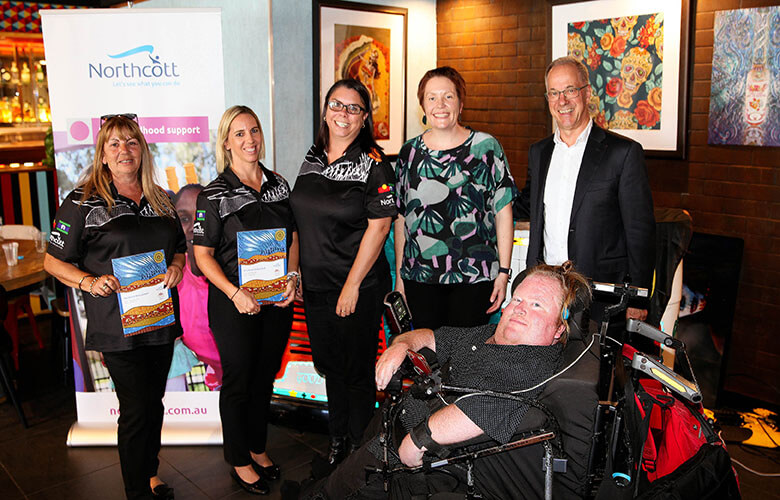 On Wednesday 31 March Northcott held a special event to celebrate the launch of its Stretch Reconciliation Action Plan 2020-2023. Northcott is committed to its reconciliation journey and improving outcomes and opportunities for Aboriginal and Torres Strait Islander peoples.
Uncle Lex Dadd kicked off the official proceedings with a Welcome to Country and a beautiful blessings song.
Northcott's vision for Reconciliation is to build an inclusive society where people can live a life they choose. Northcott strives to work in a way that enables Aboriginal and Torres Strait peoples to achieve their goals and aspirations.
"We recognise that those with disability want to remain connected to their communities and broader society, and we are committed to supporting them. Underpinning our actions is a commitment to working in partnership with Aboriginal and Torres Strait Islander communities in a respectful, committed and professional manner," said Northcott Chairman Michael Briggs.
Northcott is one of only a handful of not-for-profit organisations to have reached this milestone of a second Stretch RAP.
"I am very proud of the considerable progress Northcott has made since embarking on our formal reconciliation journey several years ago.
With this new Stretch RAP, we now want to ensure that these actions we have implemented become deeply embedded in our day to day business, including our planning and operations at all levels of our organisation", said Northcott CEO Liz Forsyth.
The last presentation of the afternoon was by Northcott's RAP working group members Kim Davis and Kelly Anderson. It was a touching, reflective talk about how far Northcott has come over the past 10 years as an organisation with its Reconciliation journey.
"I am proud of how far the organisation has come and that we are supported to attend culturally significant events and to come together face to face in a place where we feel safe and supported and to each have a voice every year" said Kelly Anderson, Area Manager in Northern NSW.
"Our community ties are strong and healthy, we have community members walking off the street to ask for jobs or reaching out asking for us to attend remote community visits with them to support our mobs."
A special thank you to Parramatta Leagues Club for their kind venue donation.
Related content
To learn more about Northcott's Stretch RAP 2020-2023 and our key targets download a copy here.