Dylan pursues his passion for cars and lands a full-time job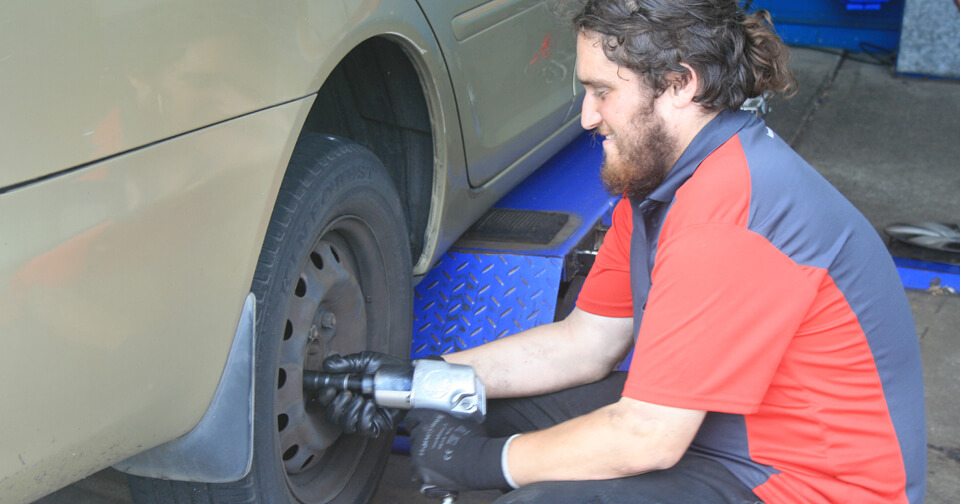 Dylan loves cars, and he has always been determined to make a living out of his passion.
In 2016 he started the Vocational Skills Training (SLES) service at Northcott in Wollongong because he wanted to learn the skills he needed to get out in the adult world and find a job. Going through this process allowed him to boost his confidence, along with building some other skills like learning how to create a resume or prepare for a job interview.
When he was doing the Vocational Skills training, Dylan got his first part-time job at a car service shop. After some time, he decided he wanted to work full-time, so with his Northcott support worker Ingrid, they worked to open other opportunities. They put together a list of places in the area where Dylan wanted to work, and among those was Premium Tyre Service. Dylan and Ingrid then went to the shop and left a resume. A couple of weeks later, Dylan got a call inviting him to come to a job interview. With the support of Northcott staff, he prepared and went to the interview, which was very successful and Dylan was offered the job.
"Dylan has shown great initiative and progress since joining Premium Tyre Service in our Dapto store. We look forward to developing his skill set further; he is dedicated and has a willingness to learn. Our staff enjoy having him as part of the team and we look forward to supporting Dylan to his full potential within the tyre fitting industry," John Dawson Managing Director of Premium Tyre Service.
Three months on, Dylan is working full-time and he is very happy with everything he is learning. "This is my first full-time job. I love working with cars. I have learned some basic things, but I'm still learning. I'm excited I'm now learning how to work with truck tyres, because that's more difficult".
Another great outcome of having a full-time job for Dylan, is that he has been able to move out of his family home and is now living with two friends. "My job is very close to my new home so I can walk and that's very handy. I'm proud of what I have achieved so far. Northcott supported me on the way, and I feel it's a 50-50 split between how Northcott supported me and the results I achieved on my own".
When asked about what he would say to people who are looking for a job or starting a new job, which can be a bit challenging at times, Dylan's advice is "just be yourself".
Related content
There's a lot of great stories about how Northcott supports customers to get ready for the workforce and find a job. Check out Jackson's story in Taree and how Penni and Kakra from Hornsby landed their first job.