Working towards a brighter future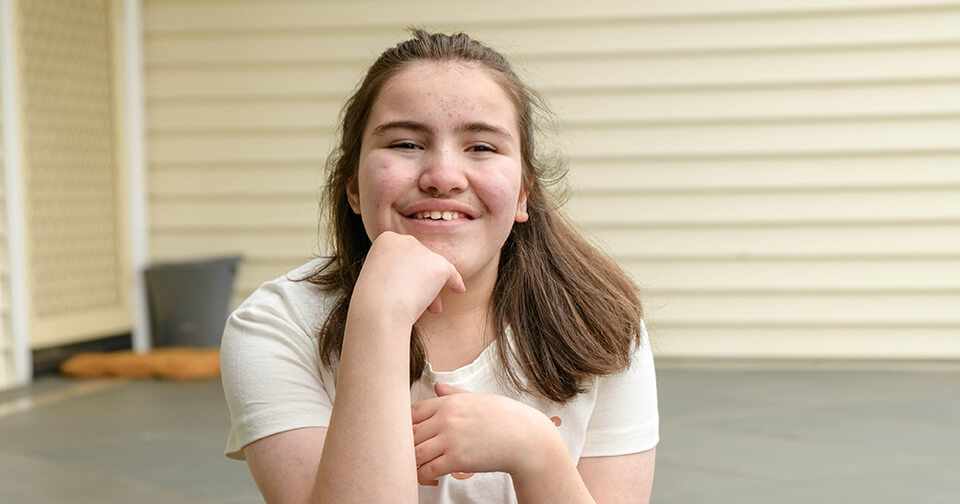 Last month we celebrated Children's Week across Australia; the theme for this year was article 15 of the UN Children's Rights Convention 'Children have the right to meet together and to join groups and organisations, as long as this does not stop other people from enjoying their rights.' We met Sera and her story of participation and inclusion. Today is Universal Children's Day, and to acknowledge and celebrate children, we meet Sabah and learn how she is working towards reaching her potential.
We think of having lots of friends, attending birthday parties or playing sport as natural aspects of a happy childhood. Unfortunately, for many children with disability who are not able to access the support they need to thrive, this is not the norm.
Even in the world of the National Disability Insurance Scheme (NDIS), there is so much more that can be done to help children like Sabah to reach their potential.
Sabah is turning 11 this month and she is the fourth of six kids in a Western Sydney family. Seeing her beautiful and cheeky smile, it's difficult to imagine all her pain and struggles. Sabah has Oral-Facial-Digital Syndrome and Global Development Delay. She has a severe tongue-tie, which stops her from forming words and makes it difficult for Sabah to chew solid food. She also struggles with her motor skills, speech, cognitive skills, and social and emotional development.
"Sabah is now noticing she is not like others, it takes longer for her to do things and sometimes she gets upset. The early years have been quite hard, but the school has been great and now she really enjoys going to school," says Abir, Sabah's mum.
To communicate, Sabah uses gestures, visuals and vocalisations. Two years ago, she started using an iPad to communicate. She uses it quite a lot at school, and it works well to communicate with her teacher. However, she finds it more challenging to use the iPad in other settings such as in the playground and in public settings.
Sabah has been getting Northcott Therapy support for over three years. "She doesn't like change, so the fact that she has been able to have the same speech pathologist for three years has been great. Having all the support Sabah needs with one service provider has made our life easier.
Sabah loves her group therapy sessions with Northcott. She enjoys being away from us, even for a couple of hours, feeling independent, doing something different. She looks forward to getting out and about. We hit the jackpot with Northcott; they are quick to respond to anything we need and Candice, her therapist, is great," Abir adds.
Having spaces where Sabah can practise using her device to communicate with children her age at group therapy sessions is a great way to build her confidence. It also provides an opportunity to be part of a group and have a sense of independence and belonging.
Unfortunately, NDIS doesn't provide cover for these activities, and Sabah can only attend one group session every school term. "In the last school holidays, going to Northcott was Sabah's only outing," says Abir. Raising extra funding to increase the number of group therapy sessions and supported day trips would make these children feel empowered and included rather than singled out and different.
"Sabah has the ability to share information but not the voice to do it. The more time we get to spend with her, either one-on-one or practising through groups with other children, the more confident she gets with her device. Our aim is for her not just to use it with her teachers, but also use it to communicate at home, in the playground and wherever she goes," says Candice, Sabah's therapist.
"Five or ten years ago, I didn't think she would be where she is now; that is very encouraging for her future. When you get a diagnosis, you only see a dark future, but seeing her now, hopefully in another ten years she will be more independent, doing things on her own. I want her to be happy.
I don't think people are aware of how much Northcott does for our children, and any extra funding we can get to further support our children, is great."
Check out how you can take part in giving children with disability a brighter future.