Using education to make a change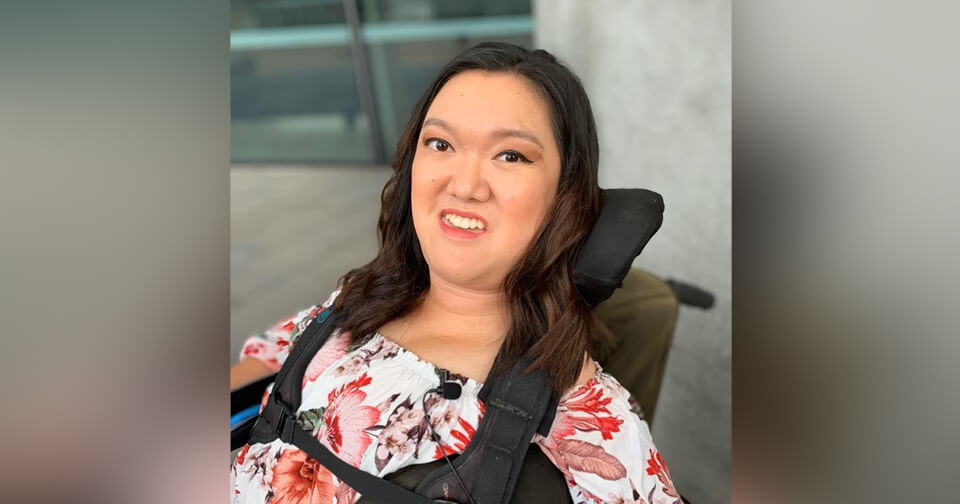 Melanie is a young woman who loves reading, writing and travelling. She is an adventurous person who loves to explore new places with family and friends.
When she finished high school a few years ago, she started exploring options to further her education. She has a passion for design, technology and innovation. Yet she found herself at a crossroads wondering what comes next. Luckily for Melanie, her pediatric and medical team from The Children's Hospital recommended Northcott and The SpineCare Foundation's scholarship program.
Transitioning from high school to higher education
In 2015, Melanie was awarded Northcott's Thomas Hepburn Lennox Scholarship. Funded by Thomas Hepburn Lennox Scholarship Trust, this scholarship is open to students with a disability who are past or present Northcott customers and studying at University, TAFE or a Registered Training Organisation. Priority of support is given to people from disadvantaged financial backgrounds.
Further on in her studies, in 2018, Melanie was awarded the Gregory and Dolores Farrell Scholarship. Funded by members of the Farrell Family, and administered by SpineCare (a division of Northcott), this scholarship is open to people who use a wheelchair as a primary form of mobility who are studying at University.
Melanie explained that the transition from high school to either further studies or employment is a difficult process for everyone, with or without a disability.  For her personally it was quite overwhelming. She says, "I was not only trying to figure out what I wanted to do after high school and who I wanted to be, there were additional layers of complexities added to the scenario. I also had to consider other challenges such as managing transport, accessibility requirements and finding the right support to assist with daily living activities so that I could focus on achieving my goals."
Melanie found that not only were there these real physical barriers towards her furthering her education but there was also the challenge of fighting the status quo of what she could and couldn't do as a person living with a disability.
Melanie says, "I was extremely fortunate to receive scholarships from Northcott for undergraduate studies. That helped set a strong foundation for my path moving forward. It created an opportunity for me to learn to be brave enough to take that initial step and head into the unknown. I was allowed to explore the possibilities ahead without being held back by the challenges associated with my disability."
Following her passions, she graduated with Bachelor of Digital Media – Interaction Design at Torrens University Australia in 2019.
Melanie had always been a creative person and technology had played a critical role in her life. She wanted to learn more about how she could combine creativity with the power of technology. She explains, "When I first started studying design, I thought it was just about functionality and aesthetics. What I didn't realise is that design can be leveraged to help drive positive social change. When you combine this with the power and potential of technology, something really special happens. It taught me to combine my lived experience with my knowledge and expertise as a designer to help create a positive social impact in our society through technology."
What is Melanie up to now?
Today, Melanie Tran is one of the Top 100 Women of influence of 2019 named by Australian Financial Review. She also won the Laureate International Universities Global Here for Good Award for using education as a platform to help create positive social change.
She is a Board Director at the International Youth Foundation and works as a Product Designer at Hireup specialising in used experience design. She is known as a disruptor, an innovator, an activist, a social entrepreneur. Her developed skills and knowledge allow for her work to span the design, disability, health and technology sector.
Melanie is really excited about the future and where her research is going to lead her. Youth social entrepreneurship and leadership are areas that she always wanted to contribute to. She hopes that she will be able to continue to creating opportunities in this space, not just for herself but also for young people across the globe.
What advice does Melanie have for people with disability considering tertiary study?
Melanie says, "Regardless of the challenges that may be thrown your way, remember to be bold and be brave. You will come across people who would doubt your ability, and attempt to provide opinions on what they think you can and can't do – but remember that nobody knows you better than you. This may sound simple but if you firmly believe that something is right for you, then go for it. Be bold and be brave."
Melanie also encourages people to get creative and think outside the box. She says, "Find another way around it, because that is the key to driving innovation and social change. It takes courage to live outside the expectation of society, but your future, whatever it is that you choose to do, is completely in your hands, with or without a disability."
Read more
Learn more about Melanie's story, work and public engagement on her website here.
Learn more about Northcott's scholarship opportunities here.