Tales from Two: Tara and Maxine (and Briggs)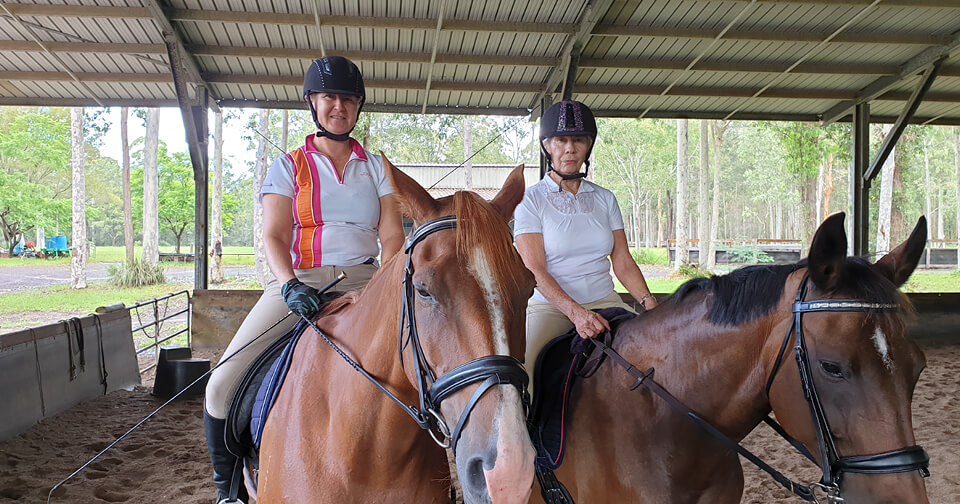 Our Taree customer Tara and her support worker Maxine share a love of horses, so when Maxine realised Tara wanted to learn Dressage, she did everything she could to support her to achieve her goal. From exploring NDIS funding for lessons, to connecting Tara with esteemed trainers in Taree, Maxine's support has opened up a new world for Tara where she is thriving.
Tara: Maxine is funny, caring, knowledgeable and comforting. She's quick with a joke and I thoroughly enjoy the days we spend together, as I'm sure my horse does too!
The two main things Max and I enjoy are conversations (generally horse related) over coffee and grooming my horse, Brigadier (Briggs) before I ride.
One of the biggest things that Max has done for me is to help me get training at the Equestrian Centre in Taree through my NDIS funding. This has been exceptional as I had no idea that was possible. My riding has improved greatly, as has Briggs. I could not have done this without her.
I've always been obsessed with horses – horse books, horse toys! My horse, Briggs, has a wonderful character. He's a bit of a sook with a big personality. He'll drink the coffee out of your cup if you let him! He is a challenge to ride well, but he is safe and really looks after me. We compete in lower level Dressage competition. Competition is still pretty new to Briggs – he is an ex-racehorse, so it's very daunting for him. I haven't done much competition for a long time either, so we are a work in progress.
Maxine goes all out for me, making sure I get the most out of everything I can. I love this about her. She helps me when it comes to grooming Briggs and getting him ready for me to ride. She also helps me put everything away. She knows what she's looking at when it comes to horse and rider, so I trust her comments.
She is not only my support worker, but has become a friend.
Maxine: When I met Tara, I thought she was very serious and very particular in all things that she did and said. Over time, I discovered a young woman with a very dry sense of humour. We share ideas and we both learn from each other.
When I first started supporting Tara she was going to the Equestrian Centre to ride her horse Briggs. I realised she was a talented rider and wanted to learn Dressage. I spoke to the owners of the centre, who are held in very high esteem in the Dressage world as trainers of horses and riders. They agreed to take Tara on as a pupil if we could get some funding. Northcott arranged for Tara's lessons to be covered by her NDIS funding.
Tara has been working very hard, putting in many hours. I was so proud when she competed in her first Dressage open competition and got third place and fifth place! There were a few barriers to overcome, but together we managed them.
Like Tara, I have loved horses all my life. I bought my first horse as a teenager and have been riding ever since. My horse, Medallion's Promise, bring me great joy. I understand Tara's love of Briggs and her ambitions to go further.
For me, the proudest thing is seeing Tara flourish, making new friends and being accepted in the horse riding community. She will continue to prosper because she has a whole network of support behind her now.
This year, I would like to see Tara get employment in the horse industry. I feel that she is more than capable to have success there; her determination would see her through. She has a lot to offer – she just needs a chance to showcase her talent.
Related content
Like horses? Check out this story about another Taree customer, Sui, who also rides.
Prefer cycling to horse riding? Read our Tales from Two story about Aaron and Pat who tandem cycle together!