Tales from Two: Aaron and Pat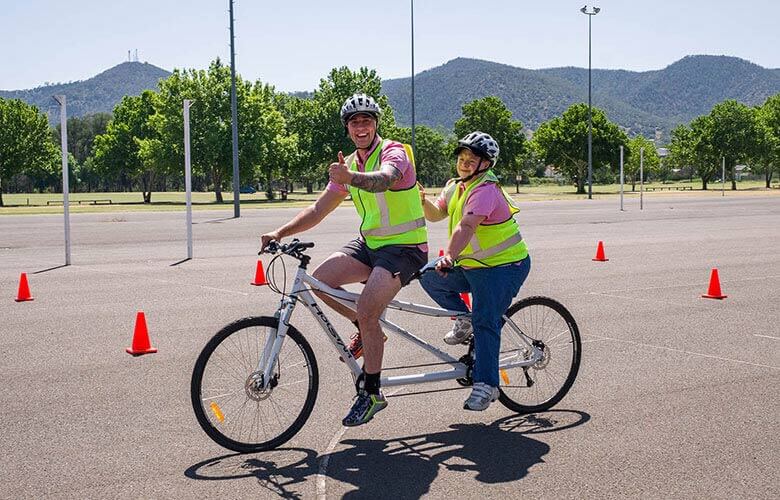 Aaron (right) and his Northcott Support Worker, Pat, are familiar faces around their hometown of Tamworth. The pair are often seen out and about participating in community work, fundraising, socialising or cycling around town on Pat's tandem bike. We caught up with them both recently at our new Wheels4Life cycling program.
Aaron (with support from his mum): I met Pat through an employment agency. My mum wanted a young person interested in cooking and fitness to support me – Pat was the one!
Now Pat's a great mate. He's energetic and busy. He's also a great coach and mentor, motivating me in competing in bowling, cooking in the catering kitchen, fitness and socialising with friends.
In 2019, we started doing some community good deeds together which were on Facebook. We fundraised for a new defibrillator in the shopping centre, helped at a Westpac BBQ, donated to Tamworth Family Support and helped at Food for Dogs. We also helped people with their groceries and raised funds to buy a tandem bike we gave to Northcott.
I used to enjoy cycling as a young child. My dad made several trikes for me growing up and a tandem bike which is steered from the back. I hadn't gone cycling as an adult until meeting Pat. I was a bit nervous and didn't have confidence. Now I love being on the back. It's fun and I can say to Pat – "Come on Pat!". I enjoy cycling around the community – woo hoo!
At the moment, we're doing Northcott's Wheels4Life cycling program. Pat and I are enjoying tandem cycling with a much larger group. We have fun doing the skills around the cones, the competitions and races. The other day I cycled 30kms with Pat. It took nearly three hours but it was fun.
Pat is like a brother and keeps me safe and active. He thinks I am his wingman in the community and I think he is my wingman.
Pat: I'm really glad I got the call to support Aaron six or seven years ago. At first I didn't know what he was saying to me, but now he's like a brother figure to me. He's a very caring guy and a genuinely happy person who enjoys being with people. He has a great sense of humour and always makes the day fun. His favourite things are food, music and his mobile phone, and he absolutely adores his mum Fiona, dad Rodney and brother Mark.
Aaron and I do lots of different things together. We go for coffee, go bowling, watch movies, go to the hydro pool and go cycling. We've also done lots of fundraising and good deeds. We also like getting dressed up in our suits for the Melbourne Cup.
I had never ridden a tandem bike before I met Aaron and his family.  We first used a home-made tandem – built by Aaron's dad!
It's fun to ride with Aaron. He has natural balance and is a good partner on the bike. I'm on the front so I get the chance to slacken off and let Aaron lead a bit.
At the Wheels4Life program, we're both enjoying interacting with a bigger group. We like sharing some of our skills. The social aspect is great with lots of group fun. We also enjoy working together on the tandem. We have to cycle in unison to get ahead of the others!
Aaron thinks I am his wingman in the community. And I think he is my wingman. I'm just not sure who is Maverick and who is Goose though from the movie Top Gun!
Related content
Customers and staff around the state love sharing their adventures together – read some of our other Tales from Two stories: Paul and Joanne from Coffs Harbour; Deanna and Mel from Wagga Wagga and Guy and Laurie from Taree.