Taking away the stress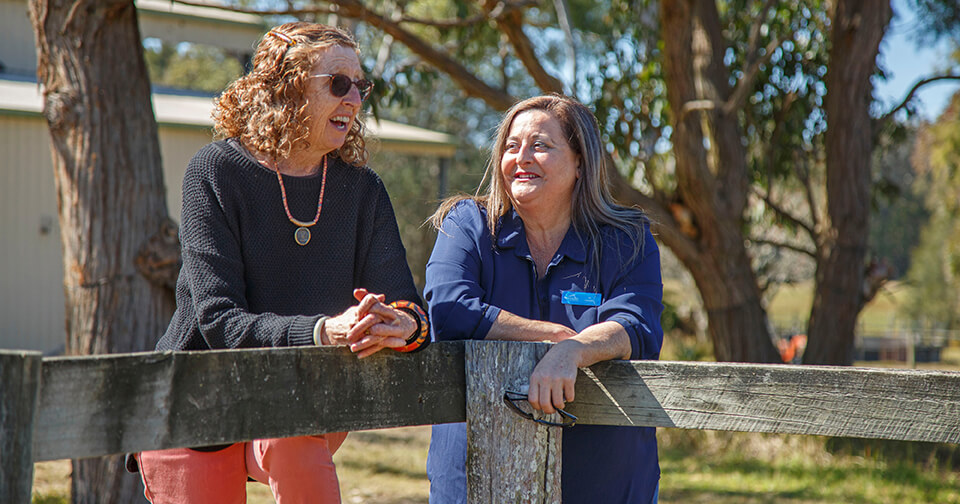 After a lifetime of managing disability services for her two adult children Alex and Sui, accessing Northcott's Coordination of Supports service has been life-changing for Janet. Her Northcott Support Coordinator Jo has not only found suitable supports for Alex and Sui, but handing tasks over has freed Janet up to spend more quality time with her children.
Janet's son Alex (30) has autism, epilepsy and Type 1 diabetes. Her daughter Sui (28) has Down Syndrome. After years of negative experiences with providers, Janet has self-managed the pair's supports for most of their lives, including when the National Disability Insurance Scheme (NDIS) was introduced. She admits it's been stressful, time-consuming and frustrating. Despite the difficulties, Janet felt managing the plans herself was the best approach – until she met Jo, a Support Coordinator from Northcott.
"For Alex's plan review, the National Disability Insurance Agency (NDIA) suggested I get a support coordinator. I'd had a few dramas in my life and wasn't coping as well as I could have. The NDIA saw it as a way to take pressure off me – but of course, I didn't see it that way at the time," she explains.
"I was very negative. When I met Jo, I was very upfront with her and said 'I'm not happy with this. I'm doing it because the NDIA is telling me I have to'. I said I'm an inclusionist and I told her how I work. But then we clicked because she was also interested in horses."
Janet gave Jo the hard task of finding a suitable behaviour support therapist for Alex, support she had struggled to find herself.
"I set this really high bar for Jo, but she came up with an organisation and chased them when they didn't get back to us – it took a lot of pressure of me. The therapist is brilliant for Alex. That's made a huge difference for me," she says.
Janet was so happy with the Coordination of Supports service that when the time came to review Sui's plan, she didn't think twice about enlisting Jo as her support coordinator again.
"It works really well because I don't have to spend time researching. Jo helps me get all the information I need without me having to spend hours on the internet. I hadn't seen the NDIS work like that."
Jo was able to find a specialist speech therapist for Sui who met Janet's request for being skilled in Auslan, Augmentative Assistive Communication (ACC) and Proloquo2go. The therapist is making great progress with Sui's communication skills.
"I wouldn't have found the behaviour support and speech therapists without Jo. She came to me with the names of therapists, what they do and don't do. It was my job to meet with them to see if they were appropriate.
"When both organisations took a while to respond, Jo hassled them so I didn't have to. She's saved me a lot of calls and I didn't have to put pressure on them. For the plan reviews, Jo chased all the reports – that's a massive amount of time."
Janet says the best outcome has been getting time back with her family. "It's given me a lot of quality time with the kids, rather than trying to get everything in place. That has been huge. Jo's support means I can actually be a mum rather than a support coordinator.
"I absolutely recommend using a support coordinator. It's been really beneficial for me, and I've still got the reins and feel in control."
Related Content:
Northcott's Coordination of Supports service made all the difference to Jodie when she needed assistance to access to funding for a home modification.
Read more customer stories like this one in our 2020 Annual Report.