Support and connections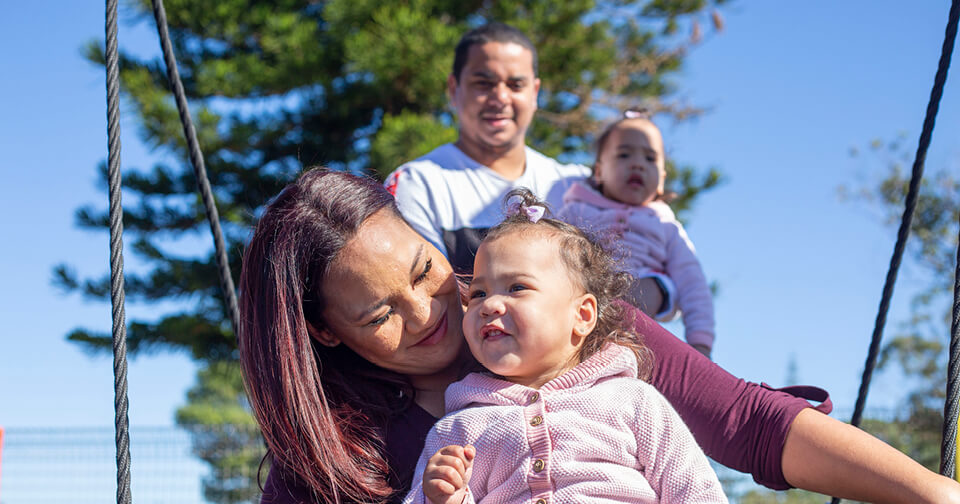 Two-year-old Sullivan and Ashaea were born a month apart. Both children are supported by a Northcott Early Childhood Early Intervention (ECEI) Coordinator to access services and supports through the National Disability Insurance Scheme (NDIS). Knowing the benefit sharing stories can have for parents, our ECEI Coordinator connected the children's mothers, Tenneayle and Penny.
When Penny and her husband Ash moved from Sydney to Port Macquarie with their three young daughters they knew the move would be hard. Just a few months earlier, their daughter Ashaea had been diagnosed with hemiplegia unilateral cerebral palsy. Although they would be closer to relatives, Penny and Ash were worried about moving to a small regional town with little knowledge of the supports and services available for their daughter.
A month after settling in, Penny connected with Northcott for support with finding services and submitting her daughter's first NDIS plan.
"I was feeling nervous because we were really starting from scratch. I called Northcott and our ECEI Coordinator helped with the rest. She took a lot of the stress of finding services off me," Penny says.
Northcott's ECEI Coordinator worked with Penny to build Ashaea's first NDIS plan and find suitable therapists to support her development. She also sought consent to connect Penny with Tenneayle, another local mother with a son also diagnosed with hemiplegia unilateral cerebral palsy.
 "I just loved thinking of Sullivan and Ashaea being able to grow up together and not feel the weight of their disability or that they are different. I wanted them to have each other," says the ECEI Coordinator.
"I also knew Tenneayle and Penny had the same concerns for their children."
From the moment the mothers connected, they started sharing stories about their journey, discovering that Sullivan and Ashaea's conditions were almost identical.
"It was really good to connect with Tenneayle…she understood everything that I was going through. Initially we would talk every few days, messaging constantly for hours, comparing scenarios and stories. It felt really good to know there was someone else who was going through the same thing with her son," Penny says.
Northcott has supported Tenneayle and Penny to access physiotherapists, occupational therapists and speech therapists for Sullivan and Ashaea, as well as identify other supports to help with the children's development. An ECEI Coordinator is now supporting both mothers with each child's second NDIS plan.
"From our first meeting with Northcott, we felt at ease and knew we were in the right hands. After a child receives a diagnosis it can be an extremely isolating situation. It has been so wonderful to have Penny as a support and to have someone that understands our situation," says Tenneayle.
For Penny, getting support from Northcott and Tenneayle has made all the difference. 
"We feel like we've got all the support we need."
Related content
Nicole is a team leader at Northcott ECEI in Lismore and also received Northcott ECEI as a participant when she realised her son George needed some support. Check out Nicole and George's story.
Enjoy customer stories? Read more in our 2020 Annual Report.