Sui is riding high this Down Syndrome Awareness Day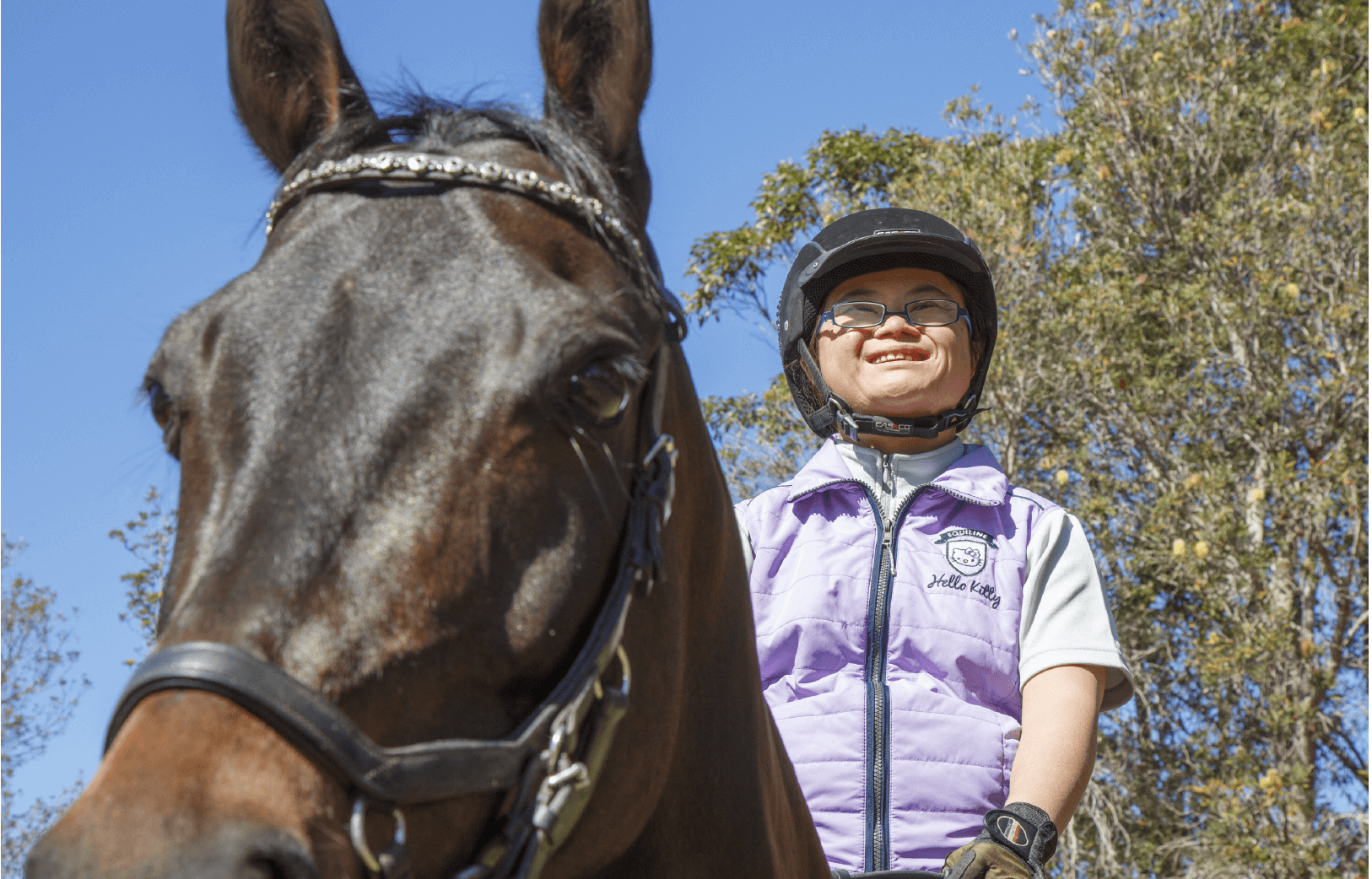 Sunday 21 March is Down Syndrome Awareness Day, a day when people all around the world celebrate the lives and achievements of people with Down Syndrome. This Down Syndrome Awareness Day we're celebrating Sui's achievements, who after a challenging start is living her best life. You might recognise Sui from our recent Annual Report, when mum Janett shared how accessing Northcott's Coordination of Supports service has been life changing.
28-year-old Sui's love of horses and incredible dedication to dressage has her well on her way to realising her dream of success in Equestrian Australia's 2021 Para Dressage Recognition B Squad. This is a special edited excerpt from a feature story in this month's issue of Horse Deals magazine. Writer Rachel Clayfield visited Sui, mum Janett and horse Diesel in Coopernook NSW.
For the first six months of life, Sui lived with her birth family, before spending three months in hospital for heart surgery. Due to not having residency in Australia, Sui was given up for adoption, and fate seems to have played its part in her ultimately finding her home with Janett and Paul Watts as a two-year-old.
Years before Sui came along, Janett and Paul had adopted another child, Alex, who joined their existing family of two biological children. They became close friends with the foster family he came from and it was that same family that later fostered Sui. A visit to them caused one of the kids on the way home to ask, do you think Sui is meant to be ours?
It took some time for Sui to open up to her new family, and this is where horses began working their magic.
"After a few traumatising years moving between her birth family, hospital and her foster family, Sui became close to her foster family," explains Janett. "When she came to us, she would not smile or give us any eye contact. She was very withdrawn, but when we took her out with the horses she would react. Sui would sit and watch the horses in her pram and she'd sit in front of the saddle with me. When she was around three, although she couldn't walk at the time, she had the balance to sit up on a horse, so we got her a little pony. From then on, she started pony club and the journey really began."
Janett and Paul are firm believers that people with disabilities should be given the opportunity to find their passion and follow it, because that's what cultivates learning and growth. Whatever their children's passions have been, they have done their best to facilitate them, and in Sui's case, it's been dressage.
"Sui's love for dressage started when we went to the Sydney 2000 Games, including the Paralympic Games," Janett continues. "Sui, who was only eight at the time, just beamed when she saw the dressage and said that's what I'm going to do. From then on all she has wanted to do is represent Australia. She then started competing in local dressage on her pony, and we realised she was getting serious."
Determination does seem to conquer all. In order to enjoy horses, Sui rides six days a week, with at least one lesson a week. She is up every morning at 5.30am to feed and clean stables by herself before breakfast. She'll ride, whether it's 40 degrees or howling wind, and she sets her goals every year and works out how to achieve them.
"People with an intellectual disability want to spend time with their animals, and just sit and talk to them; they are their best mate and life partner. It's the one that they tell their secrets to, the one that they go to when things aren't working out or they are upset. Their animals are the ones that look after them and don't mind them crying," Janett says.
"When we met Diesel, Sui rode him for an hour, and afterwards he didn't have a halter or bridle on, and he put his head around her and just snuggled in."
"He is a great, gorgeous, cheeky boy. He loves showing off and I love trying to make him look good," Sui adds with a smile.
To read Sui's full story in the March issue of Horse Deals magazine, visit the website to purchase online or to find a stockist.
Related Content:
After a lifetime of managing disability services for her two adult children Alex and Sui, accessing Northcott's Coordination of Supports service helped take away the stress for Janet.