Northcott supports Camden Council with communication access accreditation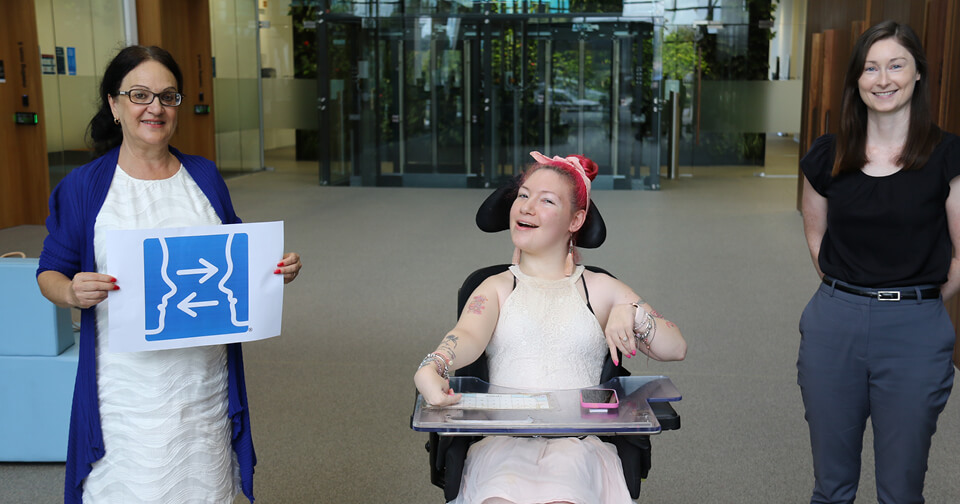 Northcott is proud to have supported Camden to become the first council in NSW to be recognised as communication accessible and receive the Communication Access Symbol by Scope Australia.
Northcott is the only approved communication access training and assessment organisation in NSW. Our assessment and training service is delivered by a qualified Speech Pathologist and a team of trainers who are people with lived experience of communication difficulties.
Communication access is about making sure everyone can understand each other, convey clear messages, listen and be willing to use other methods of communication.
In 2011, Scope Australia launched the Communication Access Symbol to raise awareness of communication accessibility. If you see the symbol on a building or business, it means the organisation has been trained, assessed and accredited in communication access. You can feel confident that, regardless of your communication ability, your messages will be understood and staff will communicate with you in a way that meets your needs.
Northcott speech pathologist, Katrina McNamee, said it was great to see Camden Council taking the lead on inclusion and communication accessibility.
"I'm impressed by the commitment to inclusion that Camden Council has shown during this process. They are setting a clear example for creating a genuinely inclusive society where everyone can participate as independently as possible," she said
Ms McNamee said it is vital more organisations that value inclusion apply for the Communication Access Symbol.
"People who communicate in ways other than speech often feel like they are ignored, discriminated against and treated as a child. But when staff use communication strategies, people with communication difficulties feel understood and respected.
"Communication access is an important part of universal inclusion and the value reaches beyond those with a disability – people from non-English speaking backgrounds, people with short term speech issues and anyone who appreciates patience and clear communication will all benefit from the same attitudes, strategies and resources."
Northcott CEO, Liz Forsyth, said "Northcott is proud to be the only approved communication access assessor in NSW. Eliminating communication barriers so that everyone, regardless of their abilities, cultural or linguistic background, can understand messages or be understood is crucial in building a society that is genuinely inclusive and accessible for all. We are delighted to have assisted Camden Council to be the first Council in NSW to achieve accreditation."
Council staff in key customer service areas including the Council Administration Building in Oran Park as well Camden, Oran Park and Narellan Libraries completed communication access training and assessment in February this year. A review process will occur on an annual basis for Council to obtain ongoing accreditation.
Related content
Find out more about Northcott's communication access training by clicking here.
Understand what communication access and why it's important here.