Nicole and George had a 'ball' during the weekend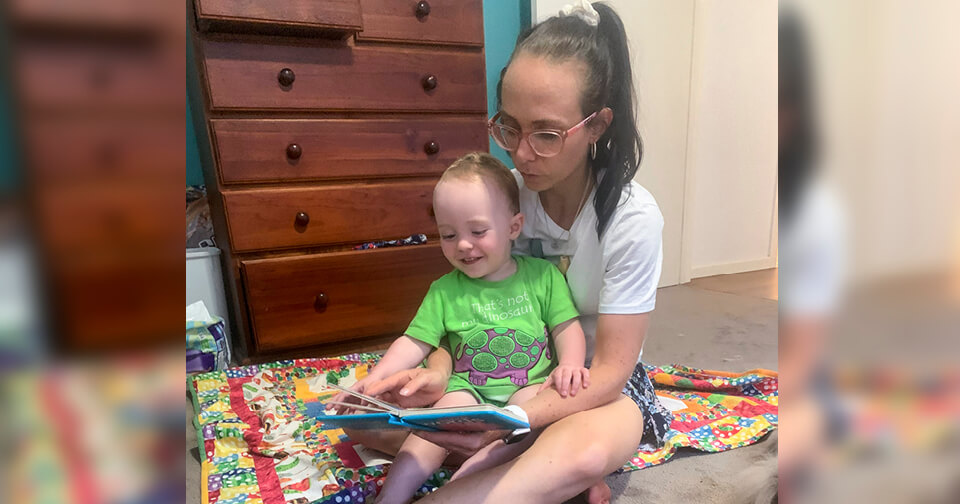 Nicole Gallpen is a team leader at Northcott ECEI in Lismore. She works every day to support children and families to develop the skills children need to take part in daily activities and achieve the best possible outcomes throughout their lives. But she also has a family, and she realised her son George needed some support and reached out to Northcott ECEI as a participant. Check out her story.
My son George is 20 months old, and he is developing well in most areas, however, up until last weekend he had not yet said his first word.
George has limited babbling sounds and limited gestures. His language has not progressed since he was around 10 months old and he has not increased his sounds or added further gestures. He points to what he wants and screams until he gets it. We could notice he was becoming increasingly frustrated with his inability to communicate his wants and needs and we didn't know how to support his language development.  
We decided to approach Northcott to assist us with advice and support around George's language; with their assistance, we were able to connect with a Paediatrician and our local Community Health Speech Therapist. The Paediatrician has diagnosed George with an Expressive Language Delay Disorder, however due to large waitlists we are yet to see the Speech Therapist.
While we are waiting to get started with some therapy, the Northcott team provided some Short Term Early Intervention support and worked with us suggesting simple things we can do at home and at his day care to assist his language development.
It was really important to me that anything we introduced had to be simple, easy and not take a lot of time. Both my husband and I work full time, so we needed strategies that we could integrate into what we are already doing at home. Upon the advice of our coordinator, we started reading George his own bed time story rather than a joint story with his brother, we picked a simple one word per page book and read both the boys a separate story so George can get some 1:1 time. We also started to incorporate gestures into everything we say, for example, gesturing drinking from a cup when we think he is asking for a drink. We have also simplified our language so instead of asking 'do you want a bottle', we say 'bottle please' so he can more easily digest what we are saying.
These three things were simple and easy for both my husband and I to incorporate into what we already do in our home. We were feeling overwhelmed with all the information and options available to support our son and Di, Amy and Laila at Northcott made everything very simple for us; that helped us manage that feeling of being overwhelmed. Three simple changes were all we implemented.
We were over the moon, when over the weekend George said his very first word, 'Ball', while picking up a ball to play with. This seems like such a small thing for most, but it was a pivotal moment for us, it shows sometimes simple things are enough to support our child.
Sometimes less is more, this was certainly the case for our family.