Making choices and new friends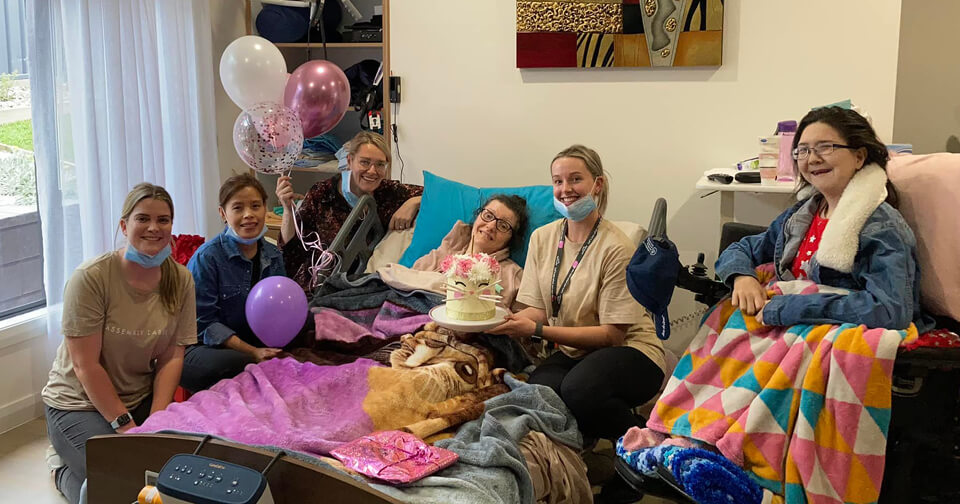 Meet Marina!
When we last had a chat with Marina, she said her goals were to make friends, live somewhere that is her own home and be able to do what she wanted when she wanted.
Fast forward six months, and Marina is really living her life of choice!
Marina one of the residents living in the brand new Northcott house in Kembla Grange. For the past eight years, Marina has lived in a nursing home. "I was told it would only be temporary and then I have seemed to be forgotten." With Northcott's support, Marina moved to the new house in October 2021 and she is very happy. Where she was living previously, she didn't get to choose what she wanted to do or eat. 
"The food is better here, and my favourite food is chicken. Support workers ask me what I want to eat, and that's great," says Marina.
In the house, Marina also gets to go out more. She loves shopping and she recently went to the zoo. "I feel more at home," she says. At the nursing home, Marina didn't have any friends, but now she is getting to know Kayla, one for her housemates, and they are becoming friends. "I bought a Christmas present for Kayla and I'm going to do craft with her."
One of Marina's support workers, who happened to work with her at the nursing home as well, says "I've seen Marina in the wheelchair more than ever. She loves going out and it's great she can do it more living here."
"Now I get to make decisions for myself and have more independence," Marina adds.
In November, her support workers and Kayla organised a birthday celebration for Marina. She said it was the best birthday she's had in 10 years.
Related content:
Are you looking for a new place to call home? Check out Northcott's current vacancies!