Living the good life!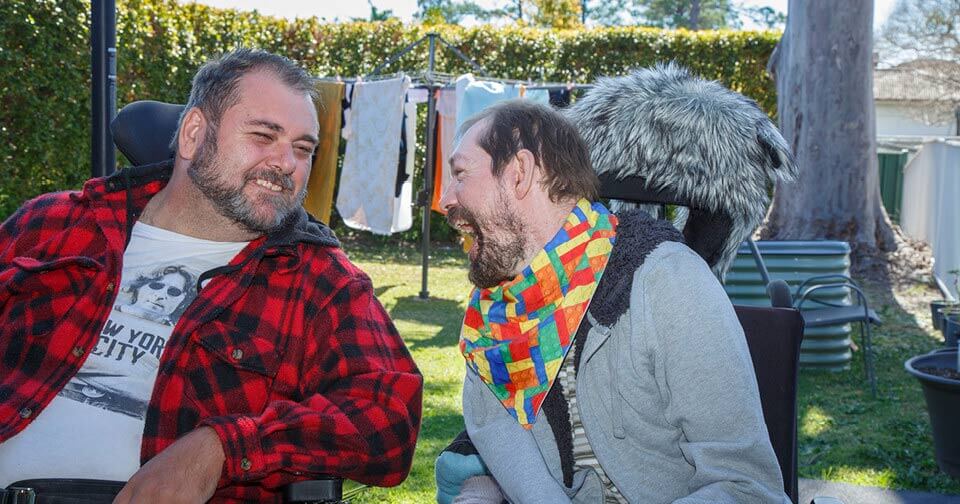 A sea change from Hobart to Coffs Harbour has given Peter more than just a new home. His mother Wendy says the 43-year-old "has never had such a good life". Wendy is thankful for the support and care provided by the staff in Peter's Northcott home.
Wendy moved to Coffs Harbour to be closer to her daughter in early 2019. It was important for her to also find a suitable home for her son Peter, who has Cerebral Palsy and is non-verbal.
For the past 20 years, Peter has lived in a group home in Hobart. While the care from support workers was always very good, Wendy felt Peter had limited opportunities to get out in the community, engage with other people and make choices. He had also never had a good friend to spend time with.
Since moving into a Northcott home in Coffs Harbour, Wendy says Peter's life has taken a whole new turn.
"First of all we have the climate. It's mild – you wake up and see the sunshine. Peter can go out. Everything is so accessible here. He has an electric chair so he can move himself," she says. "It's a very different life up here. His horizons have just opened up so much."
From her first encounter with Northcott, Wendy has been impressed by the level of support provided.
"There's nothing lacking. The staff are responsive, they listen and are caring. They do everything they can to make any change necessary for Peter. Because I've known Peter so long, everyone at Northcott will listen to me."
Despite some unforeseen challenges when Peter first moved to Coffs Harbour, Wendy says he loved his new home straight away.
"There have been so many people involved. We have a Northcott support coordinator and behaviour support specialist. The Area Manager has been fantastic, and I touch base with Peter's service coordinator about what's happening in the house," Wendy says.
Peter's benefits through the NDIS have also stretched gigantically. "He is now able to get one-on-one support for six hours daily which means he has choice and he is able to do the things he enjoys," Wendy explains.
However, it is seeing Peter build a friendship with his house-mate Matt that has been extra special for Wendy.
"Matt is just so caring. He's always looking after Peter. He's been such a faithful friend – Peter has never had anybody like that. It's lovely to see. They enjoy going out for coffee in their electric wheelchairs," she says. "I do think Peter feels happier here – he has choice and variety in his life now."