Everyone deserves their voice to be heard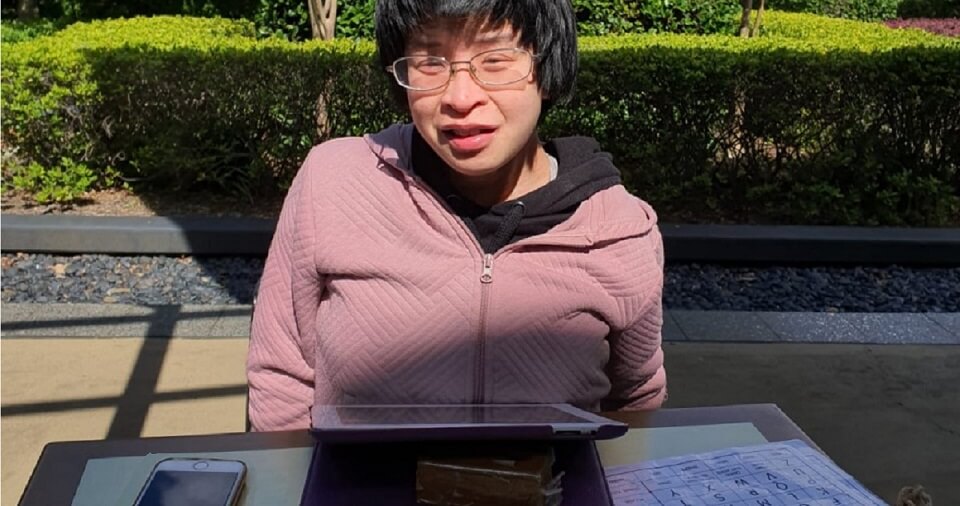 October is International Augmentative and Alternative Communication (AAC) Awareness month which is celebrated around the world. The goal is to raise awareness of AAC and to inform the the community about the many different ways in which people communicate using communication devices.
The theme for this year is 'Bridging the Silence through Solidarity", and to learn more about how people using AAC devices communicate. We had a chat with Northcott Inclusive Practice Advisor, Shirley Wong, who shares some experiences and emphasises that even when people can't vocalise, they can speak in their own way and have a lot to say.
Before using communication devices, Shirley had a speech pathologist who would get her to practice her speech, starting from making sounds with the letters and saying the words. "It was funny when my grandma came to stay, because she didn't know how to speak English, so I would teach her the alphabet as I was practicing my speech," says Shirley
Shirley started to use AAC devices for communicating when she was very young. Now she most commonly uses gestures, eye contact, a communication board, her iPad and her phone to communicate. "I will communicate all my wants and needs through this mix of elements.
People who know me well can recognise my body language, gestures or when I look or point to something they'll know what I want. I think they can also read my mind most of the time!
Using AAC has helped people to better understand what I am saying and this allows me to have meaningful conversations with everyone. It means that it is quicker to get messages across rather than taking a long time to verbally say a sentence that people might not get. If possible, I try to avoid a large group conversation because by the time I have typed my point the conversation has moved on."
How difficult was it to get used to communicating with AAC devices?
"I am a quick learner so it is easy to learn and get used to communicate using AAC. I made my own communication board that is easy to use and suits me best. It has alphabet, numbers and most commonly used words and phrases."
What role have your networks (carers, family and therapists) played in learning and getting used to communicating with AAC?
"Everyone has been open to learning how I communicate and getting used to it. A great and useful way is getting a person who knows me really well to explain how I communicate to a new person before they work with me. Right from the start I get to choose which communication method I want to use to communicate with them."
Do you have a fun anecdote that involves the use of AAC?
"I have some funny stories. Sometimes when I'm spelling a word using my communication board, someone would say that's not a word but I keep spelling that word and once they get it right, we laugh." 
"Another funny story that was frustrating at the time was when a person thought I was teaching myself the letters as I was trying to talk to them. That's why I'm passionate about AAC Awareness; it is extremely important to spread the word so that we can have our voice heard."
This year's theme for AAC awareness month is 'Bridging the silence through solidarity'. Why do you think it's important to raise awareness about AAC?
"It is important to raise awareness because even though people may be non-verbal we all have a voice and AAC allows us to use that voice and to be heard. It's very important to change people's attitudes and give knowledge for the future generations. I want everyone to know that even when people can't vocalise, they can speak in their own way and have a lot to say."
For more information about communication disability in Australia, visit this link with a summary created by the Australian Bureau of Statistics (ABS).
Related content – Communication is more than just speech