Ben's journey building social confidence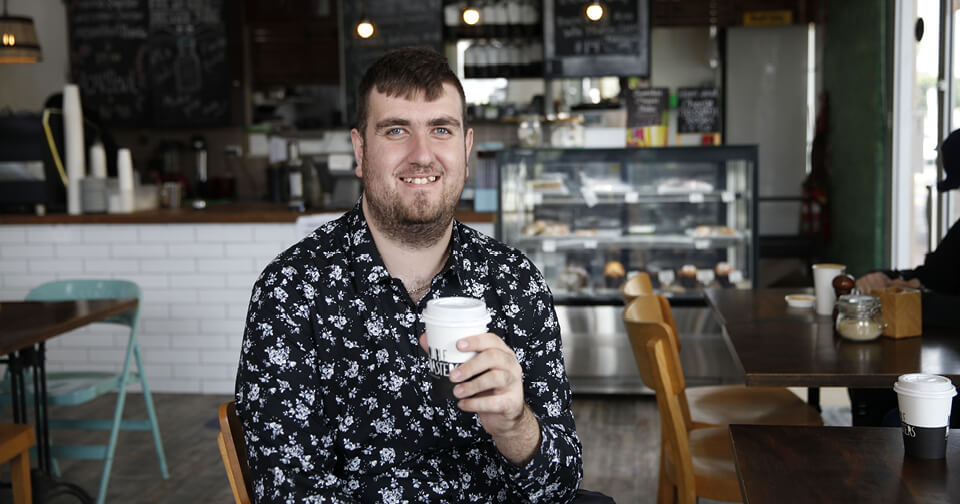 When Ben came to Northcott after finishing high school, he was shy, didn't enjoy public speaking and lacked confidence meeting new people. Like many other young people, he was also unsure about what his future may hold.
Although his mother was reluctant to put stress on Ben about his future, she thought participating in programs with Northcott might be helpful. Ben started attending Everyday Life Skills and Vocational Skills at Northcott Casula where he met other young people with disability.
How Ben has grown
Five years on, Tanjina, Service Coordinator at Casula, who has known Ben since he joined Northcott, says he has come a long way.
"If you talk to Ben now, it will be hard to understand what his disability is," she says. Ben has autism and epilepsy and his big challenges when they met were concentrating on and completing tasks, she explains.
"Now many of the customers look up to him. Everybody knows that Ben is a person who will not judge them, or will not listen to them. He will always be there to have a chat."
Ben can also see how he has changed and grown in confidence. "The person that I was back then was not the talkative type. I kept to a select few people. Now it doesn't really matter who's here. I can make friends, talk to anyone. I'm more socially confident in being able to interact," he says.
"That's probably the biggest change Northcott has made to my life … being able to start conversations and being able to keep conversations going for a little period of time. And I'm really proud of my improvement in public speaking."
Gaining skills to be job-ready
Through participating in Northcott's Vocational Skills service, Ben has developed in confidence and gained important skills to help him on this path towards getting his dream job of working with and coaching a professional football or basketball team.
For the past three years, Ben has been working part-time as an assistant sports coach for an organisation that runs sporting programs in high schools. The interview skills, understanding the strengths within himself and the support with writing his resume/cover letter he learnt through Northcott's Vocational Skills helped him with getting this job.
"[The staff] get you to do mock interviews as if it was going to be a real one, to the point of even dressing for it. And we talked about the dos and don'ts of an interview, which was really helpful," Ben says.
Ben's goals
This year, Ben's goals are to increase his work hours, gain more responsibility and socialise more. To help him achieve this, he has been learning to drive, which he sees as a huge step forward in his independence.
"Having my Ps could kill two birds with one stone," he says. "[It will allow me] to get around more and have more independence. I won't always have to rely on other people, to wait for when they're ready to go somewhere, or when it suits that person to be able to take me, or drop me, or pick me up from wherever. I can do it myself."
Well-deserved praise for Ben
Tanjina could not be prouder of the young man Ben has become – thanks in part to her team at Northcott Casula who have supported Ben with planning and reaching his goals.
"I am so proud of everything that Ben has become. He was the first customer who went to have the COVID-19 vaccination. He did it and came to the group and shared his experience and encouraged the others to do so. That was a really good motivating factor for others," she says.
"We have also really worked hard with him [to manage his epilepsy]. He had some therapy and all the support has helped him to be stronger. Look at him – he is making friends and having a steady relationship, which is great to see in a young adult.
"I think Ben can teach other people how to be patient and hold your ground. You will get there – maybe not today, tomorrow, but if you keep trying, yes, it is achievable."
Related content
Northcott has been crucial in Ben's transition to adulthood, empowering him with skills and confidence. If you want to support other young adults with disability, just like Ben, reach their potential, please donate to our Tax Appeal today.