A social butterfly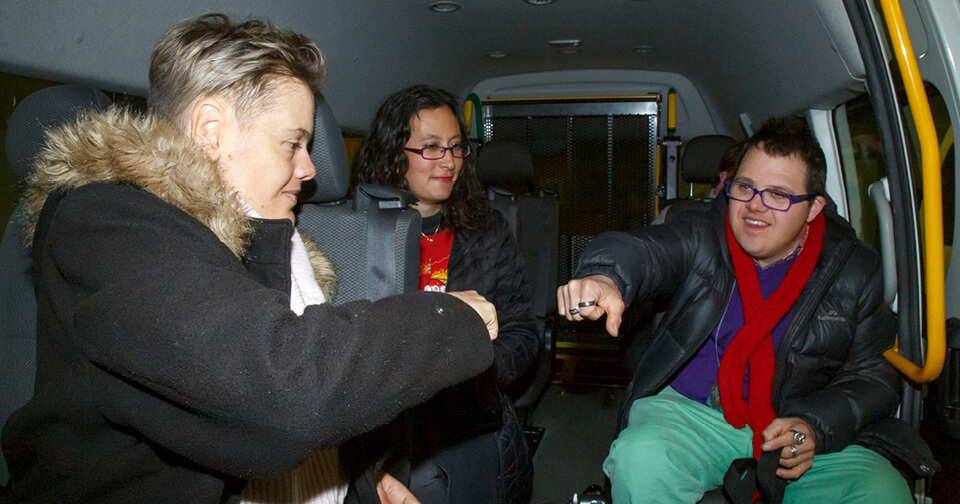 Marie has been a customer with Creativity Inc (now Northcott Hillsdale) since she was a little girl. At age five, she was one of three customers in the organisation's very first Saturday Social program for children with disability. Many years later, Marie still enjoys attending social activities with the team.
It's a wintery Saturday night, but Marie won't be deterred from one of her favourite weekend activities – heading out to Matraville RSL (aka Club Matto) with friends and support staff from Northcott (formerly Creativity Inc).
"Going to the RSL Club is the best activity I do with Creativity Inc," Marie says.
"I love it. I love seeing my friends. We eat, talk and dance."
Marie has an intellectual disability and doesn't have the chance to get out much for social activities with friends. She lives by herself – with some support – so enjoys socialising with her friends Alex, Kimberley, Carla, Emma and Maddie, who she met through the organisation's Social Experiences program.
"At the moment, I go to the Saturday Evening Social at the club and the Saturday Evening Movie and Dinner night at the centre. I am also booked to attend Woodstock, the Sunday outings group, and the Rosebery centre, which I have attended since it started," she says.
Marie has a long association with Creativity Inc and is one of the organisation's first customers. Over the years, the provider has played an important part in supporting Marie to build her skills and independence. Through various programs, the team has supported her to learn to catch public transport and important skills so she can live in her own home. Marie has many fond memories of her time spent with the organisation.
"When I was younger, we went to Melbourne on a bus. We stayed there for four days. We went to Luna Park and shopping at the markets. I remember going on picnics at Bronte Park and Centennial Park, going to museums, galleries and shopping centres.
"I also learnt to cook at the Rosebery Centre and with my keyworker Martin, I learnt to catch public transport. They have supported me to build my skills to live independently."
Self described as "chatty, bubbly and extroverted," Marie says she always likes recommending the social activities she participates in to other people and reminding her friends to come along.
"I love it because they help me be with my friends. I love going out to the club, dancing and talking to friends and other people. I also love their Christmas parties – they have Karaoke and I love to sing and dance."
Related content
Northcott acquired Creativity Inc (now Northcott Hillsdale and Northcott Rosebery) in January 2020.
For more customer stories, read our most recent Annual Report.