Supporting positive changes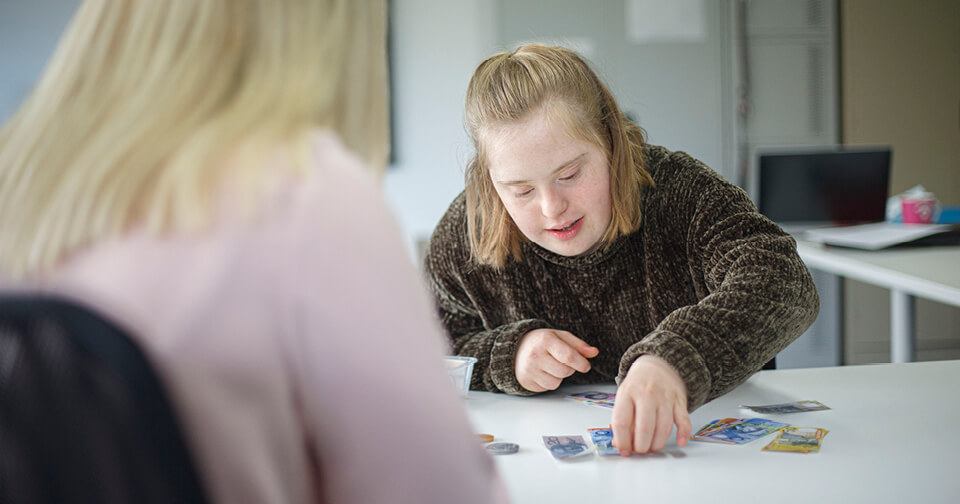 Nineteen-year-old Stephanie finished high school in 2019. She started accessing Northcott Hornsby's Everyday Life Skills service to support her to be more independent, learn new skills and access her community. The bubbly young adult, who has Down Syndrome, has thrived in the supportive environment, becoming more confident and making positive steps towards achieving her goals.
"I come to Northcott four days week. It's is a place where we can have fun and learn new things," Stephanie explains.
Some of Stephanie's favourite activities with the Life Skills group include sewing, arts and crafts and cooking. She has also enjoyed building her confidence through the learning modules the customers work together to complete.
"We've been doing modules which are pretty fun. I've learnt about social awareness, and knowing myself."
Stephanie's goals include becoming more confident out in the community and gaining the skills she needs to be able to attend TAFE. She says she'd love to complete a TAFE course in hospitality but at the moment she is happy keeping busy with Northcott.
"I like Northcott. I feel more confident coming here. It's fun, you get to meet new friends and you'll be happy."
In addition to supporting Stephanie to learn important life skills, attending the service has also seen her make new friends, develop greater self-awareness and improve the way she conducts herself – all leading to more confidence and positive self-esteem.
Even Stephanie's mother has noticed changes. "Stephanie has been enjoying all of the activities at Northcott. There are many positive changes. She's happier and her attitude has improved. The program and activities are therapeutic for her," she told staff.
The staff who support Stephanie – especially Senior Support Worker Tiah – have become very special to her. Stephanie likes to show her appreciation to Tiah by giving her thoughtful handwritten notes.
"I write these notes just because Tiah's the best. She makes Northcott Northcott!" she laughs.
Related content
Interested in accessing one of our Everyday Life Skills service? Check it out!
Our customers in Penrith are developing life skills through playing the interactive role-playing board game, Dungeons and Dragons.