Kicking goals with a healthy mindset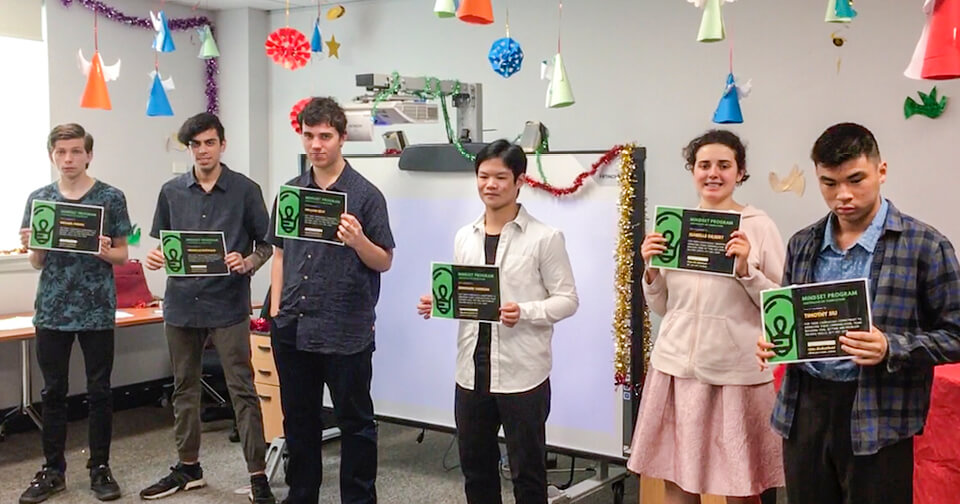 Vocational Skills Training and Employment (SLEs) customers in Parramatta had the opportunity to attend a Healthy Mindset program designed and delivered by trainer and educator Chandu Bickford.
Over a 10-week period, ten young people worked hard on setting goals and navigating through how to achieve them. The program covered aspects like developing self-awareness, managing change, building relationships and resilience, and celebrating success. 
During a celebration event and to wrap up the 10-week course, customers presented on how they worked on their goal setting and how the program helped them achieve these goals and stay on track to achieve them.
The program had clarity, courage and change as the guiding principles, and that was demonstrated throughout the presentations from each of the participants. There was a range of goals set, including organising an 18th birthday party, learning how to drive and creating a song. After the presentations, the group received their graduation certificates.
"The program allowed me to decide on things I like doing and I didn't have the confidence to do," said Michael, one of the participants whose goal was to explore his creativity skills and work with music.
"Everybody knows it's hard to make change. We each have our doubts, our internal saboteurs that hold us back, make it hard to move forward. The 10-week Mindset Program is one I deliver to all levels of industry and leadership. The Northcott customers, despite some extra challenges and hurdles, showed resilience, commitment and bravery as they stepped towards their dreams," says trainer Chandu Bickford. "They achieved incredible growth throughout the program thanks to their own perseverance and the competent and skilful support of Northcott staff."
This program was possible thanks to the generous donation from Dooley's Lidcombe Club under the Cumberland ClubGrants scheme.
Related content
Have you just finished school or you are about to finish school? Check out how the Vocational Skills Training and Employment (SLES) service can support you to develop skills to become future fit
Take a look at how Penni and Kakra, with support from Northcott, secured their first paid employment.