Doing a great job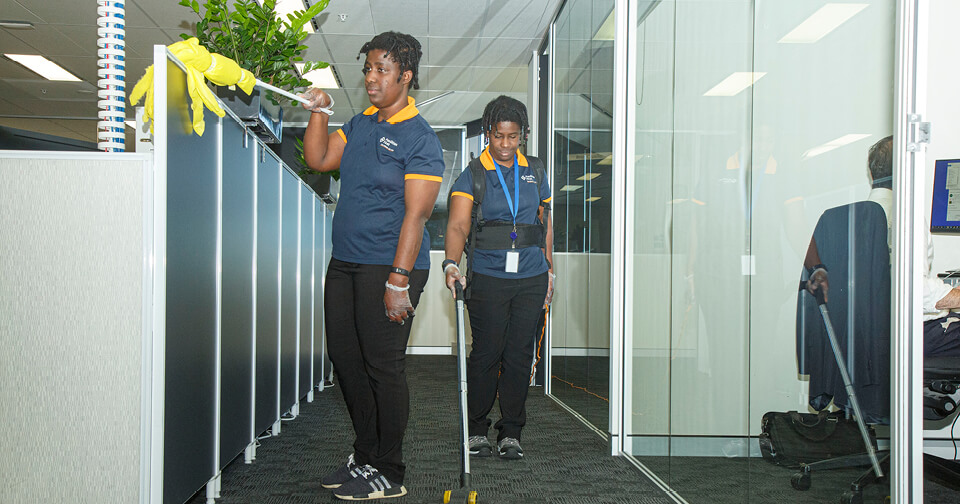 When twin sisters, Penni and Kakra joined Northcott's Vocational Skills Training & Employment service in Hornsby, the 21-year-olds were looking for support to build their confidence, learn skills for work and find a job. Early in 2020, with support from Northcott, the two young women secured their first paid employment. It's a huge step towards greater independence and achieving their long-term job goals. 
Twice a week, Penni and Kakra work as office cleaners for Facilities First Australia, a cleaning, maintenance and facilities services management company located in Macquarie Park. The young women also attend Northcott Hornsby's Everyday Life Skills and Vocational Skills services for support with building their social skills, getting out in the community and gaining skills for work. 
As part of the Vocational Skills service, Penni and Kakra, who have mild intellectual disability, were supported to complete work experience at Coles, while also learning cleaning skills with Northcott. When the opportunity to secure a job at Facilities First Australia came up, both young women were happy to give it go.
At work, initially the pair was supported by Northcott staff members and a supervisor from Facilities First Australia to learn and complete their cleaning tasks. While they still require some supervision including quality checks, training in new tasks and reminders, both Penni and Kakra are much more confident and can perform their tasks more independently within the two-hour shift. Sam, their supervisor, regularly checks in on their work and provides feedback and training as needed. 
Kakra says she is very happy working for Facilities First Australia, where the people are nice.
"My favourite things to do are cleaning the tables, vacuuming, emptying the dishwasher and mopping," she explains.
For Penni, the responsibility of going to work is a big step forward in her independence.
"It's awesome. I feel happy, grown-up and really proud of myself. I'm more adult and my responsibilities have changed," she says.
"I feel really happy when people tell me I've done a good job. I feel satisfied and proud," she explains, adding "it feels great to have a paid job."
Despite a busy weekly schedule of work and accessing services with Northcott, Penni and Kakra haven't lost sight of their long-term job goals. After doing floristry at TAFE, Penni's dream is to be a florist, while Kakra would one day like to work with animals. At the moment, however, they are content with what they've achieved so far.
"Thank you Northcott. It's feels good to get a job and get paid. We would also like to say thank you to Sam from Facilities First for the job he does with us."
Facilities First Australia is committed to supporting people with disability and is a corporate partner of Ability First Australia, a strategic alliance of leading disability service providers including Northcott.
Related content:
For more stories about our customers, check out our 2020 Annual Report.
When Ben finished school and needed support getting a job, he turned to Northcott's Vocational Skills service.