Cycling program builds confidence and independence for people with disability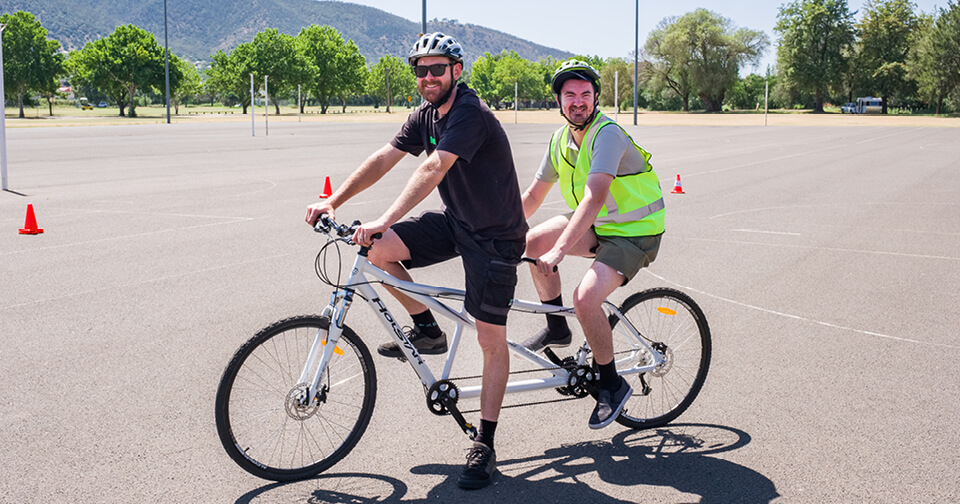 Thirty-five-year-old Ben hadn't ridden a bicycle for about 30 years until he participated in Northcott's Wheels4Life program in Tamworth last October. He's now riding a two-wheeled bike by himself and feeling more independent!
"When I was five, I went on a pushbike and fell off," Ben says. "Now I can ride again."
Ben has been participating in Wheels4Life, a learn to cycle program for adults with disability. Northcott's Tamworth Everyday Life Skills service developed the program and has been trialling it for the last six months.
Wheels4Life is funded by the NSW Government through the Transport for NSW Transport Access Regional Partnerships Grants Program. It provides people with disability with opportunities to learn cycling skills and practice them so they can ride safely on local cycleways and roads.
Since the start of the program, Ben has gone from having no confidence in cycling to being able to safely and independently ride a two-wheeled bike on a supervised track.
Northcott Wheels4Life Coordinator, Michael Ticehurst says Ben started the program on a stand-still exercise bike, before upgrading to a pedestal tandem and two-wheeled solo bike ridden indoors. When the program was moved outdoors, Ben started on a three-wheeled trike then progressed to riding a tandem bike with a support worker and eventually, a solo two-wheeled bicycle.
"The trike was good. It was very fun. Riding [the tandem] with [support worker] Georgia was fun. Now I can ride by myself. It was exciting. It made me feel good [to ride by myself]," Ben says.
As part of the program, participants practiced their cycling skills outdoors at Tamworth's netball courts, navigating traffic cones and racing each other. The group also spent two sessions at the local traffic safety bike path, learning about stop signs and other traffic rules so they could prepare for cycling on bike paths and in the wider community.
In addition to learning cycling skills, Ben and the other participants also learnt important cycle safety.
"We have to wear a helmet and a vest…to keep us safety [sic]. We put them on before we go on the pushbike. If we don't, we might get hurt," Ben says.
Now that he has new skills to be able to ride a bike, Ben says he feels "more independent" and wants to ride "anywhere". Most importantly though, he wants to be able to ride with his friends, Paul and Jock, who also participated in the program.
"I want to go places on my bike with my friends," he says. "It is fun, you can exercise and go on outings on your bike."
Michael says Ben's experience with Wheels4Life shows how providing new opportunities and new experiences can support people with disability to grow in confidence, gain more independence and learn new skills.
"A program like Wheels4Life allows people with disability to do things they normally wouldn't do. It's giving them another skill, as well as broadening their experiences," he says. "Ben has not only learnt to ride a bike again. He's learnt road and cycle safety and how to setup and pack-up our bikes properly. All of this has given him more confidence and independence."
The first pilot program of Wheels4Life ran from October to December 2020 with between 12 and 20 participants attending one or two sessions a week. A second pilot ran from January to February 2021 with further refinements to the program. Funding from Transport for NSW has helped to cover the costs of new trikes, tandem bikes and two-wheeled bikes, as well as custom-made trailer for storage or transport of the bikes. A third pilot will start in late June in Ballina.
Northcott would like to thank Transport for NSW for their wonderful support of this program.
Related content
Recreational activities like cycling and playing team sports are great for building confidence. Check out our Hornsby participants on the netball court.
Wheels4Life is just one of the many innovative programs made possible by grant funding. Another recent program is iArt, an inclusive art program run in Western Sydney and also funded by the NSW Government.