A whole new level of confidence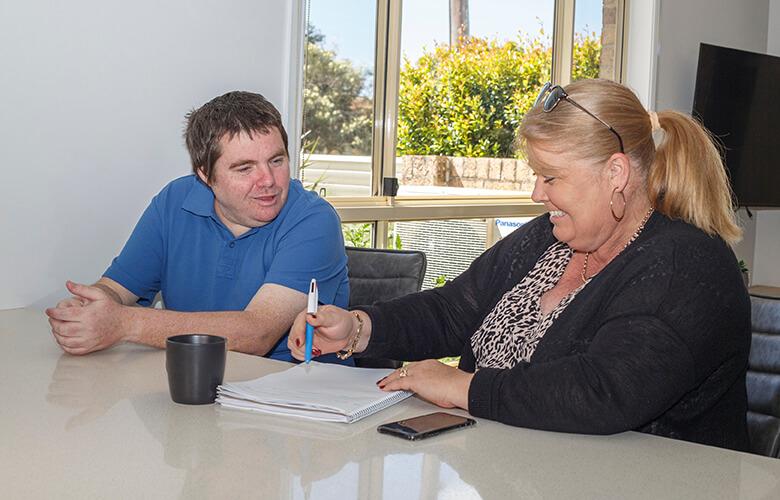 Six years ago, our Ballina customer, David, couldn't cook for himself, let alone a group of friends. Today – thanks to support from Northcott – the 42-year-old with mild intellectual disability is living independently, cooking his own dinner, cleaning up and even running social events for his friends and Northcott support workers. It's a whole new life and David couldn't be happier.
When David's father had a serious stroke in 2014 – following several other health issues – it was the wake-up call David needed to seek support to build his independence and explore a whole new life.
"It just made me think – what would I do without my parents?" David recalls.
At that time, David was living with his parents and spending most of his time at home. He hadn't accessed any disability support services. A Local Area Coordinator recommended David contact Northcott – a move that changed his life.
"I was looking for support for life skills – cooking, cleaning. I had no idea what to do. I couldn't cook a sausage back then. I also found it really hard to make friends."
David began participating in Northcott's Everyday Life Skills program, learning basic skills, making friends and building his confidence. Narelle, his Northcott Keyworker, supported him to learn a raft of new skills.
"I slowly got better over the year with Narelle's help. She helped me learn to chop, how to cook a sausage, and how to boil rice. I made good friends too." David says.
In 2018, with a new level of confidence, David started talking to Narelle – who had moved into a Support Coordinator role – about moving out of home. Securing Supported Independent Living funding was complicated, but after more than a year of pushing by Narelle, David was approved for the funding he needed. In May this year, he moved into accommodation where he is supported by Northcott.
"It felt great to finally move in. I plan on staying here forever. I like the fact that Northcott support me. Without 24 hour support I'd struggle with my roommate, I'd struggle with my cooking, I'd struggle with my cleaning, but Northcott support me through all that. It feels great to be living independently," he says.
"Northcott has supported me massively. I couldn't do anything and slowly they built up my confidence – not only in life skills but also socially. I enjoy being friends with Liam and Elise, and going out with them. Rachel, a Northcott Support Worker, and I try to organise events for the customers and support workers. I wouldn't have been able to do that. I love doing stuff like that.
"I have unlimited respect for all the support workers. I wouldn't be able to do any of this without Northcott and Support Coordination."
David accesses Everyday Life Skills, Support Coordination, Therapy and Housing and Support Living Services from Northcott Ballina.
Related content
Learning skills with Northcott has given Susu the confidence to become more independent.
Northcott supported many customers, just like David, to move out for the first time in 2020. Read about Jackie and Emma's experience, supported by Northcott Taree.