A brew-tiful partnership – Café Thanks a Latte comes to Julia Reserve Youth Precinct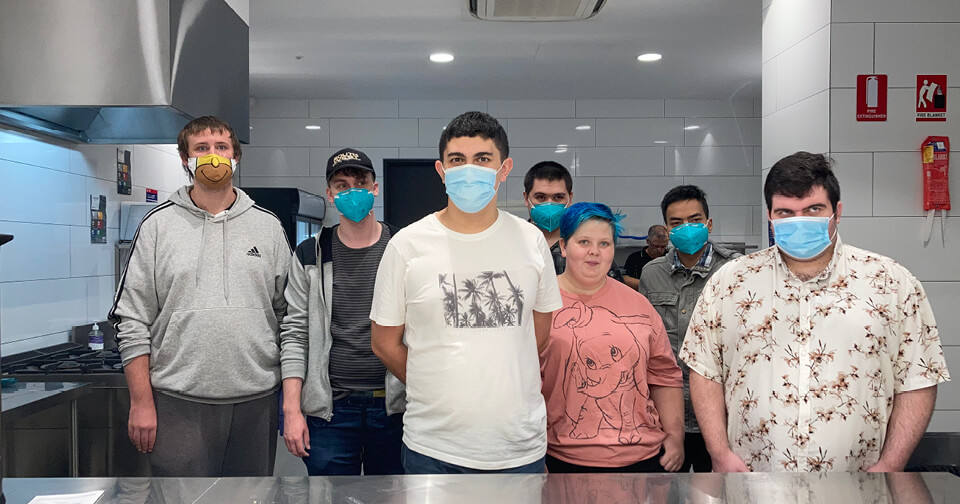 Last week Northcott Casula and Campbelltown Vocational Skills and Employment customers made their way to Julia Reserve Youth Precinct to practise their hospitality skills. Northcott has established an ongoing partnership with Camden Council and Academy Green (RTO) to deliver a hands on work experience activity in a commercial kitchen.
This work experience opportunity is part of Northcott's initiative Café Thanks a Latte.
What is Café Thanks a Latte?
Café Thanks a Latte is a specialised service that aims at building the employability skills and confidence of participants completing Northcott's Vocational Skills and Employment service. During the initiative the customers learn how to prepare food and various beverages. They also have the opportunity to learn how to communicate and navigate challenges in a real simulated work environment.
Why is work experience important?
Gabrielle is 19 and dreams of working in a bakery someday. She has been participating in Northcott Vocations Skills and Employment service since 2019. Gabrielle hopes the skills she gains through Northcott's Café Thanks a Latte work experience initiative will secure her dream someday. Gabrielle says, "I want to bake cakes and breads. I hope this experience with Northcott will help me a real job at a bakery."
19-year-old Bryson was referred to Northcott by educators after he finished school. While he wants to be a labourer, he believes the communications skills and hospitality skills he is learning through Northcott will be valuable to his future. "I am excited to be here today and I like the new youth centre in Camden. I am learning basic food skills and how to communicate. This will help me get a job someday", says Bryson.
Ismail, Northcott Area Manager says this partnership with the Youth Centre adds a level of realism to the work experience opportunity. He says, "The vibe is great. Our customers seem genuinely excited to work in a commercial kitchen with state of the art equipment. It gives them the opportunity to get out of the Northcott offices and imagine themselves working in a professional environment."
Read more:
Kayla recently moved out of home. Learn more about the challenging and exciting journey she had while moving out of her family home.
Our School Leaver Employment Support (SLES) and Vocational Skills service is a practical, hands-on program, with a genuine focus and commitment to supporting our customers to become work ready. Learn more here