More opportunities for young people with disability to get future fit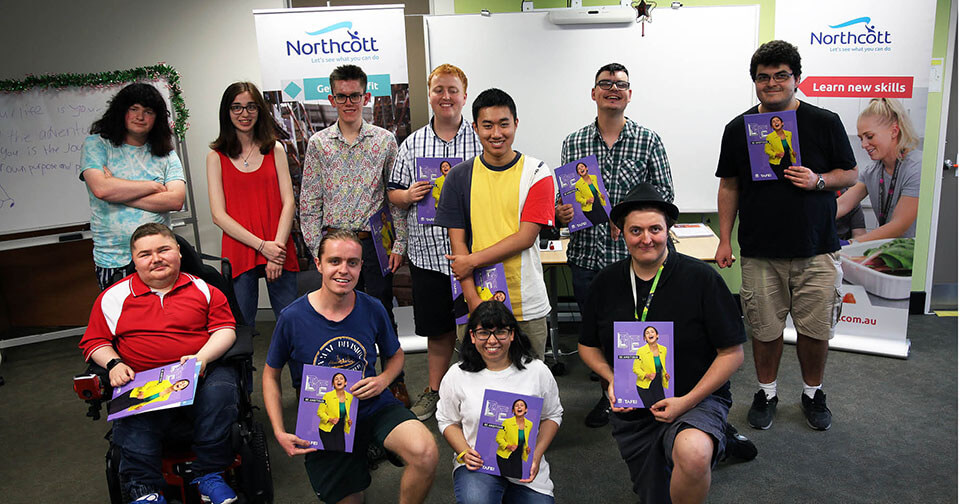 Thanks to a partnership between TAFE NSW and Northcott, 13 school leavers with autism from the Hurstville area have gained valuable employment skills. These Northcott Vocational Skills Training and Employment customers completed a Statement of Attainment in Retail Customer Service, a short course offered by TAFE NSW. As part of the course, customers completed work experience in customer service, and on Friday 4 December they were presented with their certificates.
The course enabled this group of young people to gain more skills and get job ready when future opportunities in the retail, services and hospitality industries come along. It also provided them with the opportunity to build their independence and confidence around securing employment in the future.
Northcott Hurstville customer Sarah Bergh went through the course and said she enjoyed learning from TAFE NSW teachers and aims to use the skills she learnt throughout her career.
"I learnt the fundamentals of customer service in a workplace including expressions, confidence, hygiene and teamwork," Sarah said.
Sarah is now pursuing floristry course at TAFE NSW to further her confidence and hopes to secure a job she loves in the future.
"We are proud to be partnering with TAFE NSW to support our customers to realise their potential and develop employability skills" says Joshua Debono, Coordinator at Northcott.
"COVID-19 has presented challenges for everyone this year, so we congratulate our customers for showing great self-determination and commitment to complete the course successfully."
 "TAFE NSW swiftly adapted to the disruption of COVID-19 by transitioning the course to web-conferencing technology, so our students were able to continue their studies and come out the other side job-ready," Simon Bolton, TAFE NSW Head of Skills Team.  
Related content
Early in 2020, with support from Northcott, twins sisters Penni and Kakra secured their first paid employment. Check out their story.
School transition is a challenge. Learn how Northcott is working with School Transition Teachers (STTs) to facilitate this journey for young people with disability.