Marching for his rights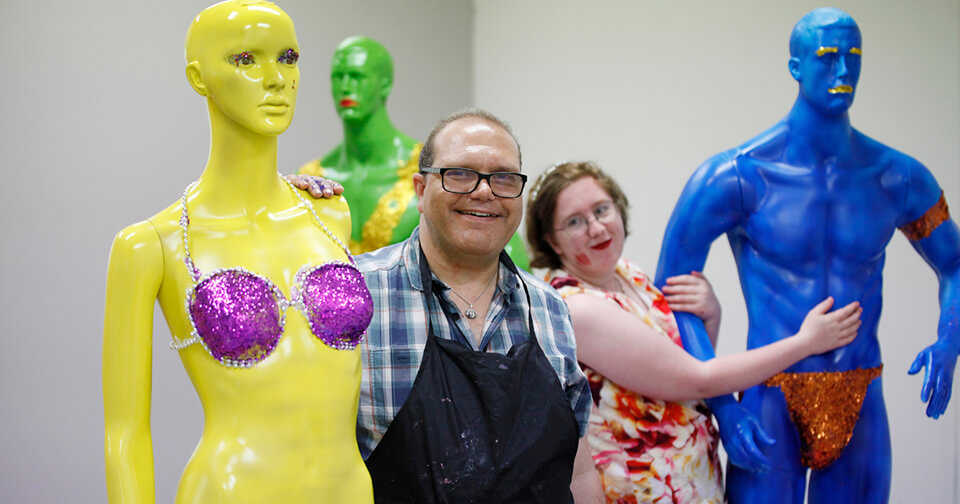 When Vitor was offered the chance to participate in the last year's Sydney Gay and Lesbian Mardi Gras with Northcott, there were some hurdles that almost stopped him for attending. Support from Northcott's Sexuality and Relationship Education service enabled Vitor to take part. More importantly, the support gave him the confidence to make his own choices and start to express the way he feels.
Going to Sydney's iconic Mardi Gras has been something Vitor has wanted to do for many years. Family pressure, however, has meant he has struggled to openly express himself, particularly when it comes to his sexuality. Attending Mardi Gras was a big step in Vitor's goal to have the confidence to express who he really is.
"This was my first time. I've wanted to go because it is fun and because I want to find someone like me," Vitor says.
Following Northcott's acquisition of Creativity Inc (now known as Northcott Hillsdale) in January 2020, customers from the organisation were able to join with Northcott and People with Disability Australia for the chance to participate in the parade in a safe and supportive environment. Vitor was one of the first customers the team thought to invite to the parade.
"This was a perfect opportunity for us to provide Vitor with an unforgettable experience he had been thinking about for a long time. It is something I don't think Vitor would have done himself," Vitor's Service Coordinator at the time said.
"To see his reaction, when being a part of the scene he has looked into all this time was one of the top highlights for me working in disability."
In the lead-up to the parade last year, Vitor was also able to participate in Northcott's Float Build Day, assisting to decorate Northcott's float with glitter and paint. Northcott's 2020 float was about disability rights and sexuality. Six mannequins in the colours of the rainbow were installed on the back of a truck, each representing a different sexuality-related human right.
When parade night came, Vitor remembers being excited to go. He had purchased a special costume and glitter for the event and with assistance from his support worker, Jack, was planning on dressing up to join in the fun. Pressure on the day unfortunately saw him change his mind. With Jack's support, Vitor decided to still attend the parade, despite not dressing up.
"I enjoyed going to Mardi Gras and doing the marching and dancing. It made me feel happy and it made me feel good. I needed some support so Jack supported me. I didn't meet anyone for me that night but [with Northcott] we are working on finding someone."
Since last year's Mardi Gras parade, Vitor has reached out to Northcott's Sexuality and Relationships Education service for more support for dating and meeting people. His goal is to build his confidence in talking about what he wants, and to find somebody special for him.
"I'm looking for somebody to date, a person like me, a nice person who is very polite and caring. Hopefully we can have coffee or go out together."
Related content
Northcott has been involved in Sydney's Mardi Gras for many years. Look back at what we did in 2019 here and watch a video we created from the 2017 parade.