Celebrating Mardi Gras 2021 in different ways!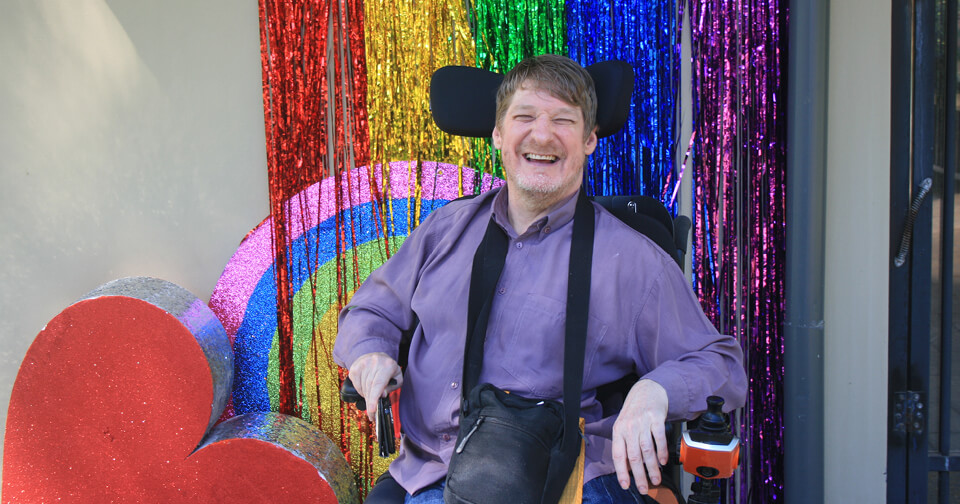 Although this year's Sydney Gay and Lesbian Mardi Gras parade looks a little different due to unprecedented times, that has not stopped Northcott from supporting customers to celebrate in style.
With several events planned in our offices across the state, including a Rainbow Dance Party, a Costume Building Day and a Parade Viewing Party, Northcott customers have been encouraged to participate and celebrate in colour.
Alicia Melita, Relationships & Sexuality Coordinator at Northcott says, "Even though we aren't able to march in the parade in person this year, opportunities like attending the Mardi Gras viewing parties and social nights are still so important.
Celebrating diversity though events like Mardi Gras bring people together and provide an opportunity for authentic self-expression. Customers that have attended our Mardi Gras themed events in the past have expressed they feel more confident and proud to be who they are."
Jamie, who came out when he was 29, has really fond memories of marching with Northcott in the Mardi Gras parade last year. While creating some glittery, bright badges during a costume building day at Northcott Parramatta, he shares some of his memories from last year. His favourite part of the night was the after party, "I stayed up till 6am at the party having the best time, laughing and creating memories with friends!"
The Rainbow Dance Party at Northcott's Ballina office was a huge hit with customers. Will Macleod absolutely loved dancing with other customers and friends. "It was a really wonderful time and I had a lot of fun. It gave me a chance to be myself without fear of judgement. I felt accepted and I like that feeling of being accepted."
Related content
Check out the wonderful time we had last year at the Mardi Gras parade!
Our Sexuality and Relationship Education service for people with disability is the first of its kind to be offered by an Australian disability organisation.