With the right supports, Tyson is thriving in Kindergarten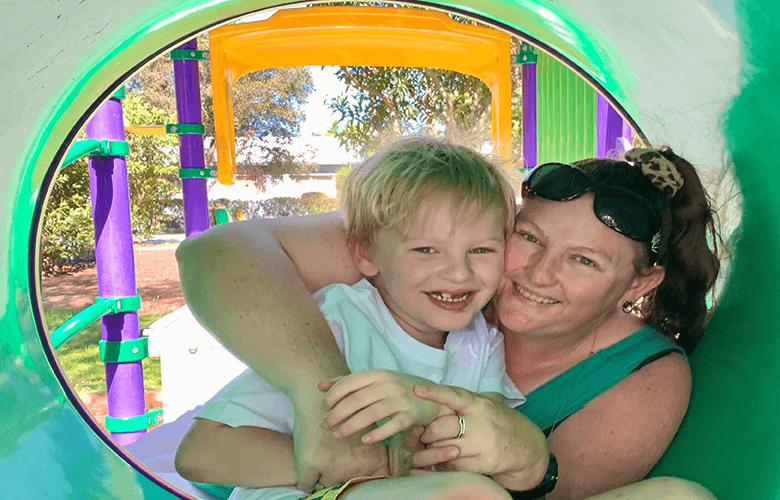 We met Tyson and his mum Tina in September 2019. At the time, Tyson was mostly non-verbal, displayed frequent escalated behaviours and was not progressing with his toileting or self-care abilities. He had limited play and social skills, and was struggling to engage with his peers. He had recently received a diagnosis of autism.
Northcott NDIS early childhood supported Tyson and his family to connect with a speech pathologist, occupational therapist and psychologist. Tyson's mum Tina also accesses parenting courses and is feeling more confident in supporting Tyson.
Tyson is now 6 years old and is thriving in Kindergarten; he loves attending each day. He has made friends and is able to share and take turns when playing. He has also improved his toileting and emotional regulation.
The right supports in place are making a big difference
"He is a gorgeous boy. When we started with Northcott, he was struggling with speech, he didn't interact. Since then, we have been working on his goals. He has progressed so much with his speech, writing and social interactions. We keep progressing with very little steps at a time," says Tyson's mum Tina. "When he achieves something new, he celebrates and that's a great feeling for me too."
Tyson's grandmother Annette has played an important role in supporting him to receive the supports he needs. "When Tyson was 18 months, and being my 13th grandchild, I noticed he was falling behind. A social worker we were seeing referred us to Northcott. [Northcott NDIS early childhood Coordinator] Emma has been very important for Tyson's support network. She helped out with more things I could think of, and she still is very helpful," says Annette.
With supports in place, Tyson is a happy boy, achieving his developmental milestones and flourishing in Kindergarten. He is now able to communicate his needs and build relationships with his family and peers. He is described as a real "chatter box".
Tyson also enjoys participating in activities in his community; he loves his swimming lessons and is a member of Billabong Zoo in Port Macquarie and Timbertown Park in Wauchope. He loves to spend time with his Nan and Pop, and he enjoys weekly sleepovers at their home.
Related content
Noah is also on a great path to independence. Check out Noah's story.
Interested to know more about how Northcott early childhood can support your child and your family? Check our more information about this service.