Tales from Two: Anno and Dane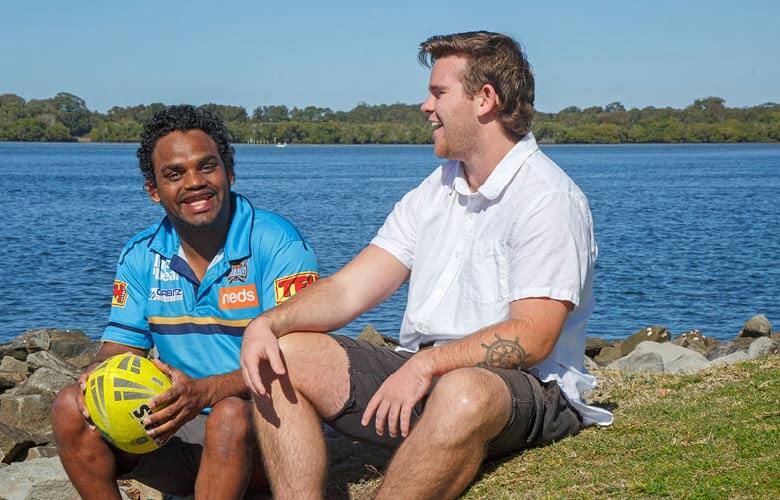 When does a photoshoot not feel like a photoshoot? When you're hanging out with your mate, throwing a football and having a chin wag! That's what a recent photoshoot was like for our Ballina customer Anno and his support worker, Dane. The pair, who are both Aboriginal, enjoy each other's company and always have fun. We spoke to them in the lead-up to NAIDOC Week about working together and being Aboriginal.
 Anno: Dane is a happy guy. He talks a lot of bull***:) but he's easy going.
The first time Dane supported me, we were both part of the Life Skills service. We went out to a local café. Now we like to go bowling, to the pool, swimming or to the gym. We also enjoy eating out at local cafes and throwing a footy around.
One funny memory I have is when we were kicking a football and Dane kicked a grubber ball and it bounced up and hit me.
At the moment Dane is supporting me to work towards getting my driving licence and getting a job.
My mob is Gamilaroi – Moree. It means family and connection. I grew up in Ballina but I go back to Moree to see my family. It's hard to put into words what "Always Was, Always Will Be" means to me – it is a connection to land.
Dane: Anno is cheeky but laid back. He's always smiling and happy but also talks a lot of bull*** too :)! He always has his mate's back and is always caring. He is funny and quick witted too.
One thing I've learnt from Anno is not to take things for granted. Supporting him has opened my eyes to the struggles that others go through.
I like it when Anno and I go up to the Gold Coast to visit the theme parks or when we go fishing locally. Last time he caught two fish and I caught nothing. He is going to teach me his tricks. I even tried to take his fishing spot but still didn't catch anything!
Next year, I'd really like to support Anno to secure a job.
My tribe is Wiradjuri – Wellington. I haven't felt as connected because I grew up here in Ballina but I am going there in the holidays to see our family and find out more about our tribe. To me "Always Was, Always Will Be" means connection to land and being a part of something bigger than yourself.