Northcott Hornsby welcomes customers into new modern office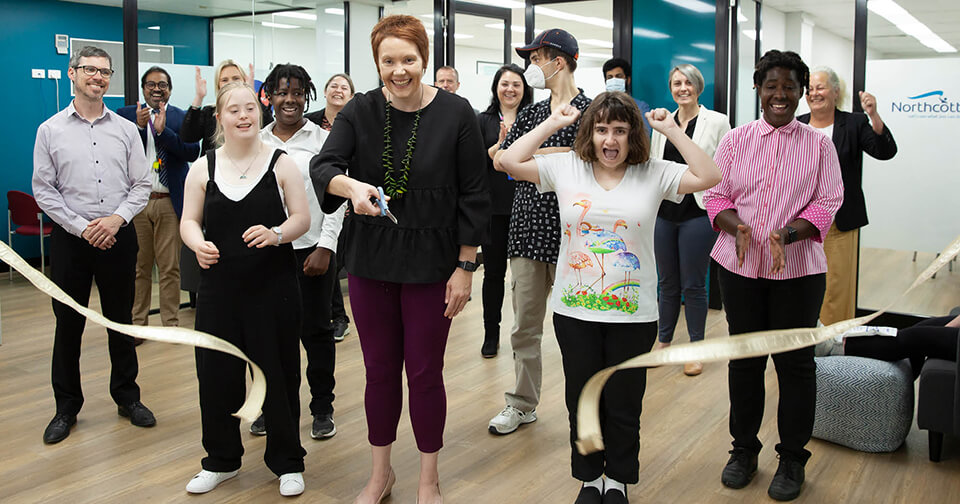 Northcott has been supporting customers with disability in the Hornsby area for more than 12 years, consistently delivering services that provide personalised and dynamic support. Our brand new office at Shop 3/2 William St, will allow Northcott to meet the growing demand for services and support, ensuring those in the Hornsby community have access to the disability services they need.
This fit for purpose space will enhance the support provided by Northcott, allowing people with disability in the Hornsby community to continue accessing a range of services that empower them to learn the skills they need to achieve their goals while socialising with peers who are also on their journey to independence. Through our Vocational Skills Training and Employment, Skills 4 Life and Everyday Life Skills services, we support customers to increase their confidence and become work ready.
During the opening ceremony, Northcott CEO Liz Forsyth together with customers Penni and Kakra cut the ribbon to officially open the office. This was followed a morning tea organised by our customers who are working on their employability skills in the hospitality area.
"We are very excited to have this new space. It's great to have more room to do more cooking and that we can walk to the shopping centre and back because it's really close," Penni and Kakra say.
"We are very proud of this friendly and welcoming space and we hope all our customers are proud too, as this is also their space. This year has been challenging for everyone, particularly for the team and customers in our Hornsby family, considering the venue moves and changes they've gone though. We believe it's worth it; this new space will allow the local team to plan new activities to keep supporting customers to achieve their goals," says Liz Forsyth, CEO at Northcott.
At street level, in a central location, with ample parking and adjustable equipment, the office is fully accessible and allows for customers and the team to have more flexibility when planning activities. The room can transform from a classroom to a dancefloor in the blink of an eye!
The colour palette is an essential element of the design of the new space as it fosters productivity and motivation. In addition to a big open plan space, the office also has two training rooms, two meeting rooms and two breakout rooms.
Related content:
Visit the Northcott Hornsby webpage to learn more about the services we provide in the area.
Check out how Stephanie, Penni and Kakra are achieving goals with the support of the Hornsby team.