Moving out of home and embracing new experiences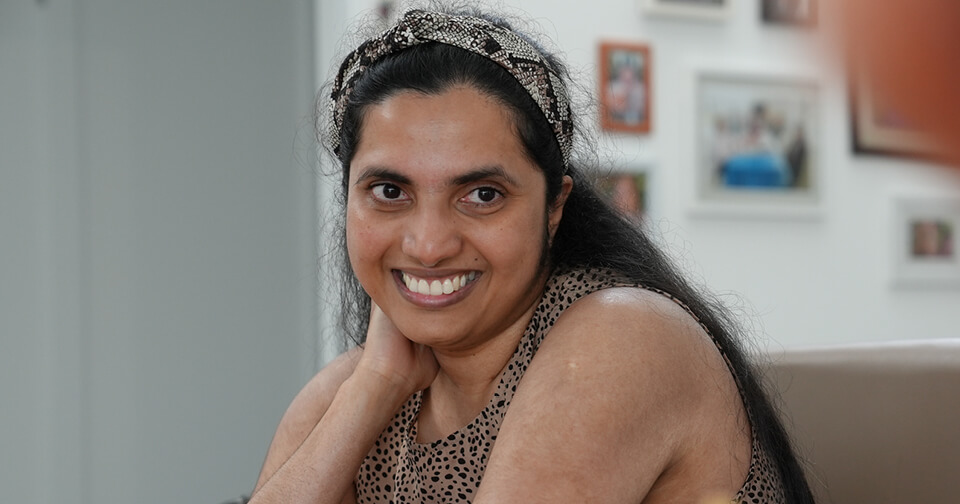 Vindya is a vibrant, happy and enthusiastic young woman who enjoys trying out new experiences and being involved in different activities. She started attending Northcott's Everyday Life Skills in Taree in 2018 and she moved to a Northcott's Supported Independent Living house in Taree in September 2020.
Northcott supported Vindya to transition smoothly out of her family home with her parents, to living independently with house mates and support staff that she has a lot in common with. "I enjoy the extra independence I feel living in the house," says Vindya.
Sharing her passion for food and new activities
Vindya is passionate about cooking. With the use of adaptive equipment and utensils, she actively participates in cooking meals with her house mates. This includes food prep and cleaning up afterwards.
She has many friends and family around Australia and the world, and enjoys sending them photos of her baked creations and Sri Lankan recipes.
Vindya and her house mates Jackie and Emma enjoy crafts, music, dancing and movies. Vindya enjoys the social aspect of the house very much.  She is learning to play the guitar at her day program, and often practises at home.
Vindya loves trying out new creative activities and recently tried pottery making. She looks forward to making small oil bowls soon.
Improving skills and regaining confidence
One of Vindya's goals is to improve her English language skills.  Since living in shared accommodation and attending Northcott Everyday Life Skills, she has been involved in many discussions and has had many opportunities to practise her English with different people.
Vindya has noticed that she is able to understand and be understood by her friends and support workers while communicating in English which is a great feeling!
Vindya has had some falls in the past. Due to this  she lost confidence in using her walker. With Northcott's support, she has been able to attend regular physiotherapy appointments and kept herself moving with exercises, chair yoga and gentle walking activities. With these activities her strength and confidence in her own body have improved. She is excited to be using her walker again instead of a wheelchair.
Vindya is now able to use the vacuum cleaner with the aid of her walker to clean her bedroom. "It is a good feeling to be able to do this myself," says Vindya.
Hopes for the future
Vindya hopes to one day go on a road trip with friends to Coonamble. She lived there for several years when she first moved to Australia and has happy memories of her time.
Vindya is also really looking forward to visiting her sister and nephews in Sydney, once restrictions in NSW have ended. Although she keeps in regular contact with her sister through video chats, she is eagerly waiting to give her nephews a cuddle.
Related content
Matt has been living in one of Northcott's houses in sunny Coffs Harbour for more than two years and loves gardening. Check out his story!
New Northcott program supports neurodiverse young people to become job-ready. Learn more about this program here.