Get online with Northcott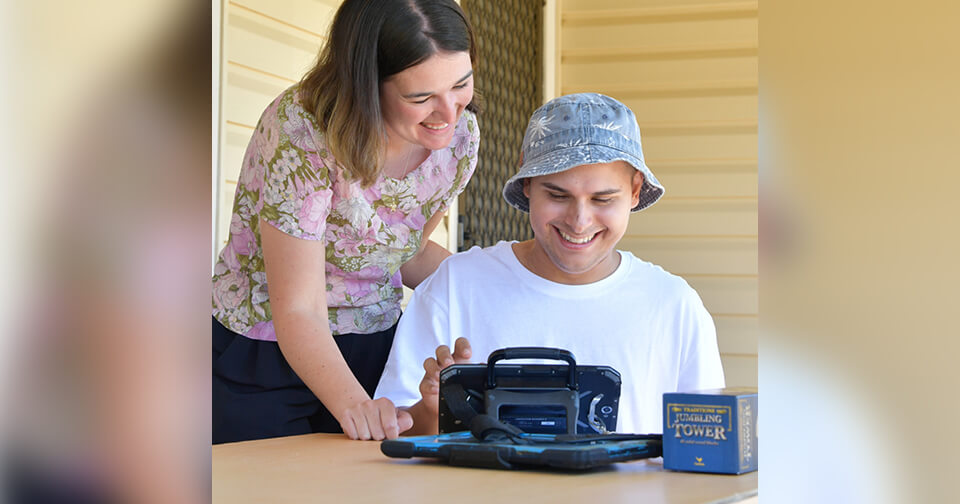 The current situation in New South Wales and ACT has challenged us to look for new ways of working. Northcott is committed to providing services to customers who need essential support. However, with centre-based day programs across NSW temporarily closed, we need to be innovative in how we provide that support.
Now more than ever it is really important to remain connected, maintain skill development and look after our mental and physical wellbeing. To continue to provide that to our customers, Northcott is now offering three of our centre-based day programs online!
"We all need to learn and adjust to our customers' needs quickly. Offering services online is a great way to keep connected and continue providing the skills development that is so important for our customers.", says Pat Buick, Chief Operations Officer at Northcott.
"The online sessions allow our support workers and customers to bond in a new way. Customers have the chance to share what their homes look like, introduce their families or pets. This is helping to create a deeper understanding between the support worker and customer."
New and existing customers can join our online services by contacting our friendly Customer Service Team on 1800 818 286.
The programs available online are:
Skills 4 Life (for customers aged 14-17)
Thanks to a suite of accessible technology platforms, customers are able to keep getting the most out of the Skills 4 Life program. They can do the fun activities they usually do at the centres while staying at home.
Being online won't stop customers from doing activities like cooking, scavenger hunting and doing community projects.
Vocational Skills (for customers aged 17-24)
With a customised schedule of activities, young people with disability can keep getting the most out of our Vocational Skills program and join in on the fun without leaving their home.
We will work with customers to get them Future Fit. We will have lots of engaging activities to develop their employability and social skills, and build independence. There will also be a mindfulness module so they learn to support each other in this ever-changing environment.
Everyday Life Skills (for customers over 18)
With a customised schedule of activities and accessible technology, customers can get the most out of our Everyday Life Skills program online. They can join in the morning for live dynamic sessions such as music, cooking, art or mindfulness. They can then connect with us in the afternoon for fun, relaxed sessions with lots of socialising.
We will also send customers exclusive content and activities to do from home in their own time.
Read more
Want to know more about how Northcott is continuing its services during the Coronavirus (COVID-19) pandemic? Visit our COVID-19 page.
Checkout how our Wagga Wagga Everyday Life Skills customers stayed connected  last year.