Feel the Vibe Virtual Week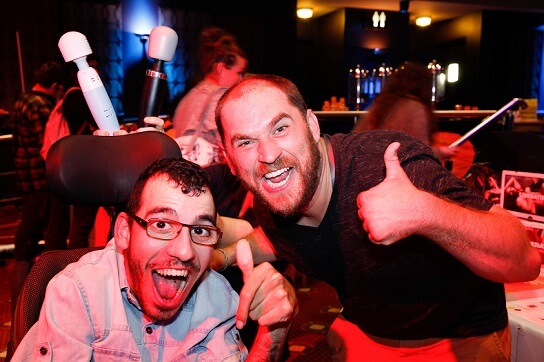 Northcott's Feel the Vibe Virtual Week is intended to be a series of fun, welcoming and interactive webinars for adults with disability to learn all about sexuality, sexual health and sexual fulfilment.
The expo this year will look a little different, with 'exhibitor stalls' being replaced with topic talks on adult products, sex positivity, sexuality and the NDIS and sexual health. In addition to topic talks Northcott will be putting on some exciting entertainment during the week for a bit of extra fun!
Webinars will be held every night from Monday 22 November – Friday 26 November 2021 starting at 5:00pm.
Event Schedule
Night 1: Monday 22 November (5:00pm – 7:00pm)
Sally Aurisch and Saul Isbister (Touching Base): Are you interested in learning more about engaging with a sex worker? That's what Touching Base is all about – supporting people with disability and sex workers to connect. Come along to their session to hear more about what they are doing, including in relation to the NDIS. It's also a great opportunity to ask any questions you may have about sex work and Touching Base.
Mohammed Samrah: Mohameed Samarh is a sexuality advocate who will be sharing his experience of accessing sex workers and how it has changed his life. Mohammed is passionate about reducing stigma around sex work and normalising that people with disability have the right to access sex work if they choose.
Night 2: Tuesday 23 November (5:00pm – 6:30pm)
Jaie Thomson and Samantha Frain (Northcott ): Jaie Thomson and Samantha Frain will be presenting on how a therapist can help you identify and work towards your sexuality goals. We'll chat about managing physical support needs and communication, but our talk will start with possibly the trickiest bit – tips on how to bring up the topic with your therapist.
Nina Crumpton: Nina Crumpton is a sexuality advocate who will be stripping down the facts of the NDIA's position on funding sex related therapies and the controversial decision that was made to fund sex therapy for a woman with MS.
Night 3: Wednesday 24 November (5:00pm – 6:30pm)
EVENT HUMPDAY – Sexy themed trivia hosted by Rupaul's Drag Race Down Under Queen Jojo Zaho
Night 4: Thursday 25 November (5:00pm – 6:30pm)
Kaidee Dick (Family Planning NSW): Family Planning NSW will be talking about sexual health and what we can do to keep our private body parts in tip top condition! They will be talking about safe sex, STI testing and cervical screening and resources and supports that can help you to live a healthy sexual life.
Isabella Burstin (XES Products): XES Products is an online sex toy store dedicated to providing premium, accessible products and resources for everyone, without exception. They will be presenting on what sexuality is, their range of assistive technology available for sex and how these can be funded through the NDIS.
Night 5: Friday 26 November (5:00pm – 6:30pm)
Alicia Melita and James Wilson (Northcott): Northcott's Sexuality and Relationship Service will be talking about ways to explore sexuality with and without a sexual partner and tips for a positive sexual experience. They will be taking you through the process of planning your sexual experience including ways to incorporate the 5 senses and how to have effective communication about sex.
END OF EVENT BURLESQUE LESSONS – Join burlesque teacher Rose Royce as she takes you through a mini burlesque lesson.
Got a Question?
For more information they can email sexuality@northcott.com.au or call 1300 605 996