Bouncing back from lockdown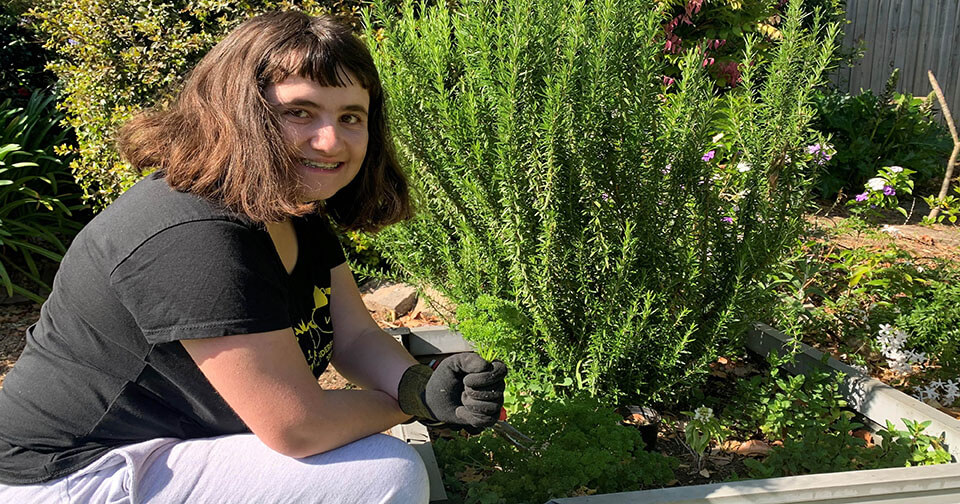 Northcott will be holding its second online Giving Day on Tuesday 30 November. Your contribution will allow us to continue providing tailored support to significantly improve the quality of life for young adults with disability. Your donation will have a double impact thanks to generous corporate supporters who will match every donation received until 30 November.
Giving to Northcott means that young adults like Becki will be able to have more opportunities to re-connect with friends after some tough months in lockdown.
Becki is 23 years old and has autism. She has a bubbly personality and enjoys watching cartoons and creating posters. She also loves going to the shops. Becki has the gift of numbers; she will ask you about your birthday, and can tell you within seconds what day of the week any date you give her falls on, no matter which year.
Becki doesn't enjoy foods that she hasn't tried before, loud noises, and sudden changes to her daily routine. The COVID-19 pandemic has created a big disruption in what she knew as a 'normal' day; she had to stay home without seeing her friends at Northcott Hornsby for months.
Like many young adults whose lives were disrupted, Becki was sad and counting the days till lockdown ends! Not seeing her friends had a massive impact on her. "I have been attending Northcott in Hornsby for more than five years, I've made lots of friends because we make each other laugh, and we learn a lot! Lockdown is very hard because I can't see my friends, I can't go bowling or play mini-golf. I miss going for train rides and visiting the shops again!" says Becki.
Becki enjoys learning how to cook, travel independently, and a range of skills that grow her independence and confidence. "With the help of Northcott, Becki is learning important life skills such as cooking, gardening and being able to go to a café and buy herself a milkshake. We enjoy watching her confidence grow at Northcott," said Alison, Becki's mum.
The impact of lockdown in young people with disability
Lockdown has been hard for everyone. But for young adults with disability, the impact has been significant. The routines they relied on were disrupted and the connections they've created have been paused.
The temporary closure of disability day programs meant that many young adults lost their connection to the outside world and the friends that they relied on. All of these uncertainties created stress, anxiety, and disengagement. Signs of depression were obvious, and sadly our staff had to deal with lots of underlying anxiety not just from young adults but from some parents.
Many of us will bounce back, but young adults with disability need a lot more support to re-engage and regain confidence and trust in their lives. This year more than ever, we all have an opportunity to help young adults experience meaningful activities and explore exciting learning opportunities, leaving lockdown behind and laughing out loud with friends again.
Fun is an essential gateway to learning. Your donation will boost young people's wellbeing through sensory resources, outings, recreational activities and even nights away from home via respite.
When you make a gift to Northcott, you will help provide the best holistic support to families that need it most. Even in the National Disability Insurance Scheme (NDIS) world, there is so much more that we can do to help young adults like Becki. But we need your help to do it.
Related content
Visit the Northcott Giving Day page to learn more about this initiative and make your donation.