Achieving a big goal, one step at a time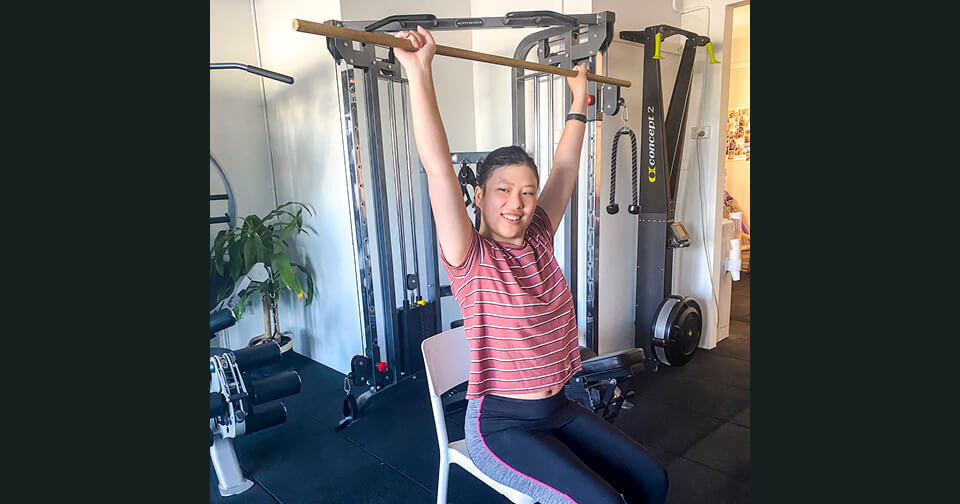 When Northcott Campbelltown Physiotherapist Jess Hird started working with Bree, she had a very clear goal: to learn independent living skills to help with cooking, travel training and personal care to enable her to live on her own one day.
When discussing this goal, Bree detailed that she would like to be able to access the community independently and this included attending a gym to get stronger so she could complete household tasks like cleaning and carrying washing baskets.
Bree heard of a gym in her local area where one of her friends attends. Jess explains that, "as part of my role, I contacted the gym and discussed what facilities they had and what programs they offered. It was great to learn that the gym was an NDIS registered provider and apart from being personal trainers, staff there were also trained counsellors."
Bree decided to do one-on-one personal training sessions instead of group classes. She was excited when she discovered that there was a bus stop right outside the gym, so she could get there by herself, further contributing with her goal of gaining more independent living skills.
Unfortunately, due to COVID-19 restrictions, she couldn't start immediately, but once restrictions were lifted Bree and Jess headed straight to the gym for an initial appointment and everything went back on track. Bree booked a session after one of her friends, so she had a couple of friendly faces there. She was so excited to be at the gym and exercising, you could not wipe the smile off her face.
Bree has been going to the gym for almost a month, travelling on her own, and she is loving it!
"I go to the gym once a week and also train alongside the Stellar Sisters program, which is run by CM Fitness and Stellar Experiences," Bree said.
"My favourite exercise at the gym is the treadmill. I have slowly become less afraid. At first I was shaking and anxious, but now I am gaining confidence!"
Bree is very excited because one of the goals she had when starting the gym was to take advantage of the training and apply it to improving the way she does everyday tasks.
"The weights are helping me with carrying heavier items," she said.
"At first I was carrying 3kg weights, now I can carry 6kg weights! This helped me tremendously with carrying the heavy shopping bags and my suitcase.
"My next big goal is to live independently. My support worker and I are practicing cooking and purchasing groceries and my Occupational Therapist teaches me tasks around the house."
From the beginning, Bree has had a very clear goal, and she is working hard to achieve it, getting smaller but very important achievements on the way.
Related content
Deanna and Christell are already living independently. Check out their journey.
Maddy has found opportunities in the changes of routine this year. Check out her story.